Nail buffing removes unevenness in nails for a smooth, glossy shine. It also gets rid of ridges and imperfections. You can buff both false nails and natural nails.
Different shapes and sizes of nail buffers include rectangular, oval, or triangular shapes. They are made from foam, sandpaper, emery boards, and glass. 
The grit buffer battles roughness, ridges, or bumps on nails. You can also use it to remove stains or discolorations and give your nails an extra shine. 
Still asking what are nail buffers used for? The answers are in this blog post. Find out now!
What Is A Nail Buffer?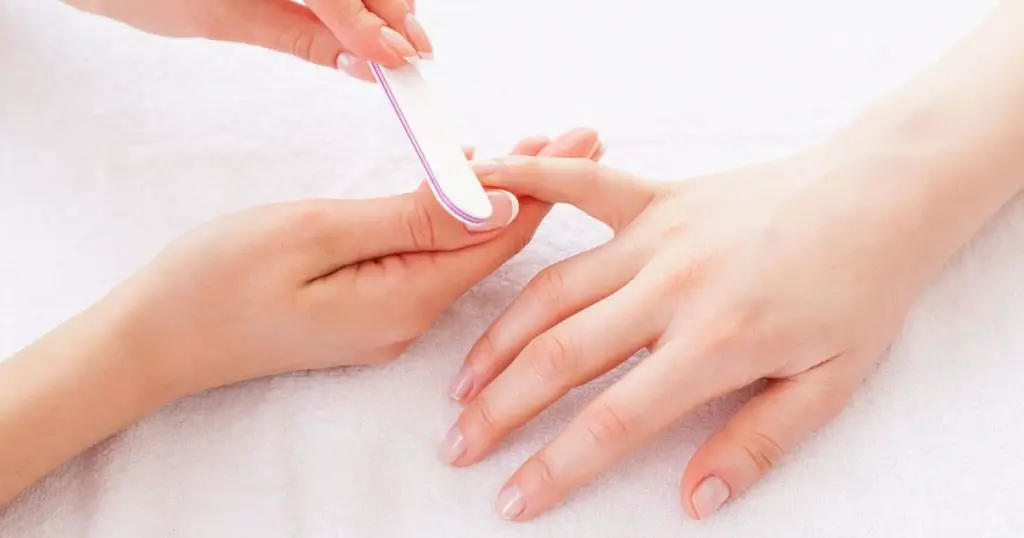 Let's start here.
A nail buffer block is a cosmetic tool for manicures and pedicures. It's used on the nail plate to improve the surface and shape by buffing away ridges and imperfections.
The most common type of buffer is a rectangular one with four sides. The grits on each side are different and for a specific purpose.
Nail technicians use the coarsest nail buffer grit to file down the nail after gluing it on. This is what you use to shape nails or reduce their length.
The medium-grit side also smooths the nail, while the softer file polishes the nail.
The last surface is a buffer block that buffs the nails and gives them an attractive sheen.
The different sides file and buff nails at different degrees, depending on the force you use and desired results.
Be gentle when using this beauty tool.
Start with the most coarse grit. Then use the medium-grit side to level the nail surface.
You can use the finer grit side to polish the nail while the buffer block or sponge puts the final touch or creates a mirror glass shine.
Pro Tip: Always keep your nail buffer clean. After using it, wipe it with a damp cloth and have a dry place, especially for it.
What are Nail Buffers Used for? 
Nail buffers are magic wands that prevent unhealthy nails. The grit file also ensures your nails remain well-groomed and pretty.
If you have decided to go shopping for nail buffers, you must be wondering what nail are nail buffers used for.
Here we go:
They Smooth Out Sharp Edges
This is one of the major functions of nail buffers. The grit file removes rough edges on or around the nail.
You can also carve out different nail shapes, for a more polished look and feel. These could look like an oval shape nail, a ballerina nail shape, or a half-moon shape.
Removing Ridges
Using a buffer during manicure treatment can also remove ridges from the nails. Ridges make the nails appear uneven and unattractive, not to mention uncomfortable.
They can also affect product application when doing your nails. However, using a nail buffer to buff away the ridges gently can help achieve a smooth and even surface. This allows for better nail polish application.
Enhancing Shine
Nail buffers enhance the shine of your natural nails. Using a high-grit buffer gives you a smooth and shiny surface. It's guaranteed that your nails will have a healthy and vibrant appearance.
You can also use the gritty surface to add shine to acrylic or fake nails.
Prep Nails for Polish
Nail buffer blocks also help prep nails for nail polish application.
Whether you're going for a cute acrylic nail or some other elegant nail design, you can't ditch prepping.
The gritty surface of the buffer helps prepare the surface of your natural or artificial nails before applying actual nail polish. 
By using a buffer to smooth out rough edges and remove ridges, you can create a smooth and even surface that is ideal for applying nail products. This ensures your nail polish or ‌artificial nail goes on smoothly and lasts longer.
Reducing Manicure and Pedicure Health Risks
The buffer board maintains healthy and great-looking nails. This is the final answer to what are nail buffers used for.
It encourages the circulation of blood and stimulates nail growth.
Additionally, nail buffer blocks remove dead skin cells and debris from the nail bed, keeping the nails clean and healthy.
How to Use a Nail Buffer
A nail buffer is easy to use. If you have decided to buffer from time to time, these are the steps to follow to make your nails shiny:
1. Start your nail care routine by cleaning your nails with soap and water. Ensure you dry your hands before your hands thoroughly.
2. With the coarsest side of the nail buffer block, gently buff your nails. Go in with unidirectional strokes.
Here's a natural nail care tip: Don't buff too hard or too long to avoid brittle nails, nail bed damage, or other health issues related to nail care.
3. Once you have buffed all of your nails with the coarsest side, use the next level of coarseness to gently buff the nails until they have a gloss shine. 
You can leave the nails like this if you want clean, polish-free nails. But you must remove leftover dust or debris from the nail surface if you want to use nail polish.
Proceed with your regular or UV gel polish application. But first, apply a base coat before the gel coat.  
One of the nail care do's you shouldn't overlook is the top coat. After all your previous efforts, you need this for the perfect nail pamper routine. So, finish by applying a clear topcoat to protect the nail polish and add an extra layer of shine.
Types of Nail Buffers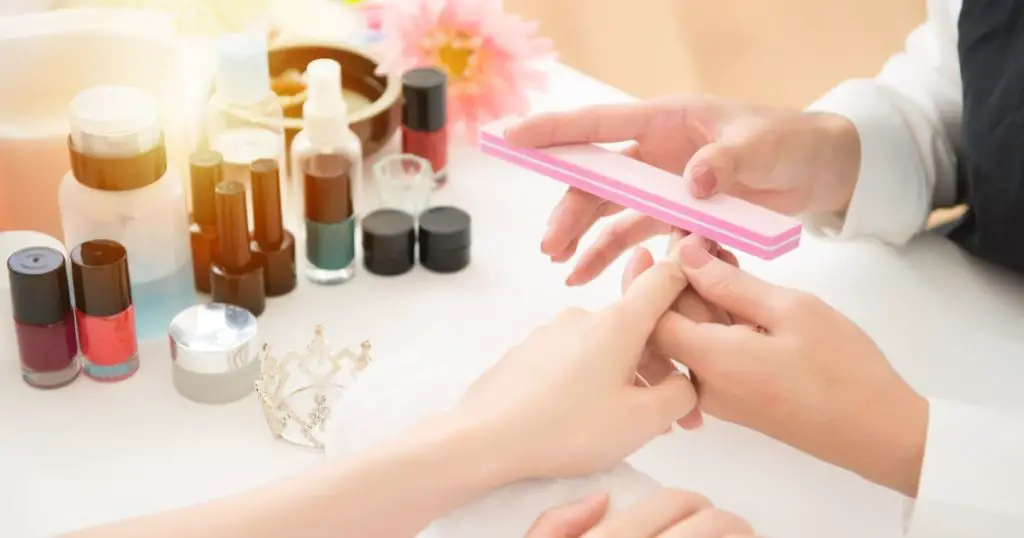 Nail files are an essential tool for healthy and well-groomed nail lovers.
There are different shapes, sizes, and materials, each with a unique purpose. Some have multiple sides, like the 4-sided nail buffer. Here, we'll explore the types of nail buffers available, their features, and how to choose the right one for your needs.
Foam Nail Buffers
These are the most common type of nail buffers. They have rectangular or oval shapes made from a foam material. The outer surface has a fine abrasive material to even the surface of your nails.
Foam nail buffers are gentle on the nails. You can use them to remove ridges, bumps, and nail surface stains. They also give them a shiny finish.
Foam nail buffers have different grits, from coarse to fine. It depends on the level of buffing your nail care routine requires.
Sandpaper Nail Buffer
Sandpaper nail buffers are like foam nail buffers. However, the nail file surface is rougher.
There are different sizes, but rectangular or oval shapes are popular nail lover choices. One or both sides feel like sandpaper.
Sandpaper nail buffers are more abrasive than foam nail buffers and are used to remove more significant ridges and bumps on the nail surface. They are also used to shape and prepare nails for nail polish application.
Emery Board Nail Buffer
Emery board nail buffers have a thin, flexible board coated with an abrasive material. 
The board shapes the nails, evens rough edges, and removes nail stains and discolorations from the surface.
Conclusion
What are nail buffers used for? By now, you must be familiar with the answer. Here's one last nail care tip to prevent some manicure and pedicure health risks: always clean your buffer board after use. 
Use a damp soft cotton cloth to remove any type of bacteria that may be lurking on the buffer board. Keep damp and enjoy!