Ever wonder how to take care of nails after acrylics? The health of your nails is just as important as the style. Take a look at our informative guide, and never wonder about how to care for your acrylic nails again!
Nail care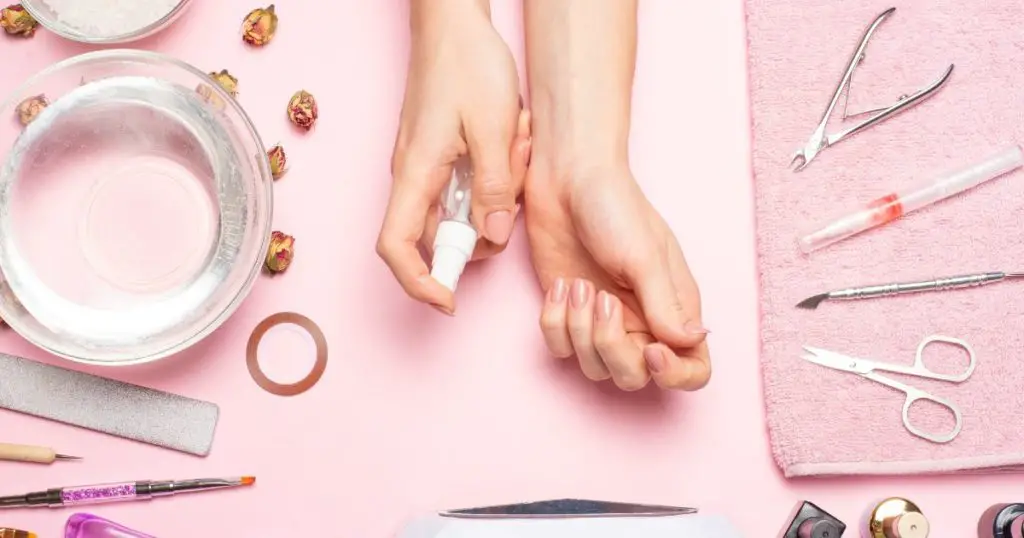 Almost everyone has asked themselves how to take care of their nails after their first set of acrylics have been removed. It is important to know that damage, soreness, redness, or other nail issues are not a necessary outcome of your nail appointment. 
Your manicure should not damage your nails – however, these things do happen. The two most important factors when it comes to manicures are how skilled your nail technician is and the quality of materials used. 
Another very important thing to look out for is that all equipment your technician is using is cleaned or sterilized. Whether you are looking to avoid damage and pain after acrylics, or you really just want to take good care of your nails, here are some ways to do it!
How to Take Care of Nails After Acrylics – The Process 
Here is what you need to know about the process of getting a set of acrylics so you can also know how to take care of your nails before and after acrylics. Getting a set of acrylics should be a pleasurable experience – your nails and cuticles should not hurt or bleed (apart from the stinging in the lamp). 
However, you should make sure that you don't schedule a nail appointment if you have any nail damage, infection, or inflammation. If your nails have a change of color, texture or you see lifting, you should treat your nails before having anything done to them. Doing acrylics on the affected nails can only make the condition worse!
Choosing Your Technician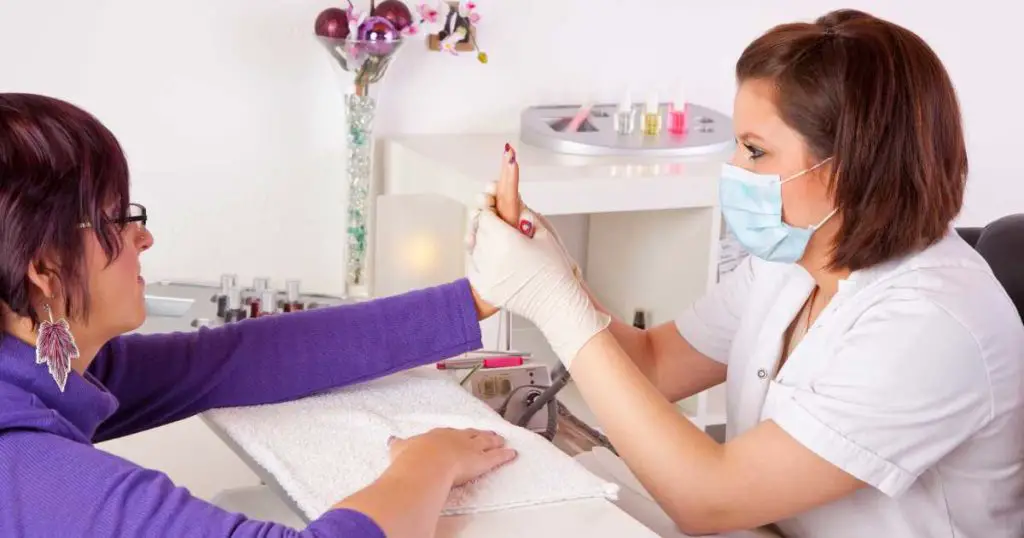 Even though it may seem like a simple skill, an experienced and well-educated nail technician can save you most of the trouble. Do your research before making an appointment, you should only get nails done by a certified nail technician in a registered nail salon. 
Inform yourself about the materials and polish they use. It is worth investing a few extra pennies for good quality materials.  Make sure that the salon is clean and tidy and their tools are sanitized. 
Everything that comes in contact with your hands needs to be sanitized before the session. If the technicians make sure everything is done safely and cleanly, your task after removing the nails will be much easier.
Don't Remove Your Nail Set by Yourself
As tempting as it can be, never pluck your nails! The nail salon has everything needed to remove acrylics. Always let the professional do it. Even if you want just removal, make sure it's done in a professional setting. 
Unlike traditional nail polish or soft gel that are made to be easily removed even at home, acrylics are tough and you can hurt your nails by trying to take them off without the proper equipment. 
Pro Tip: If you have an electric file at home, try to stay away from it. E-files are not meant for removing acrylics and you can easily file away too much or file your own nail bed even. When removing acrylics, the natural nail should stay intact. 
Keep Your Nails Short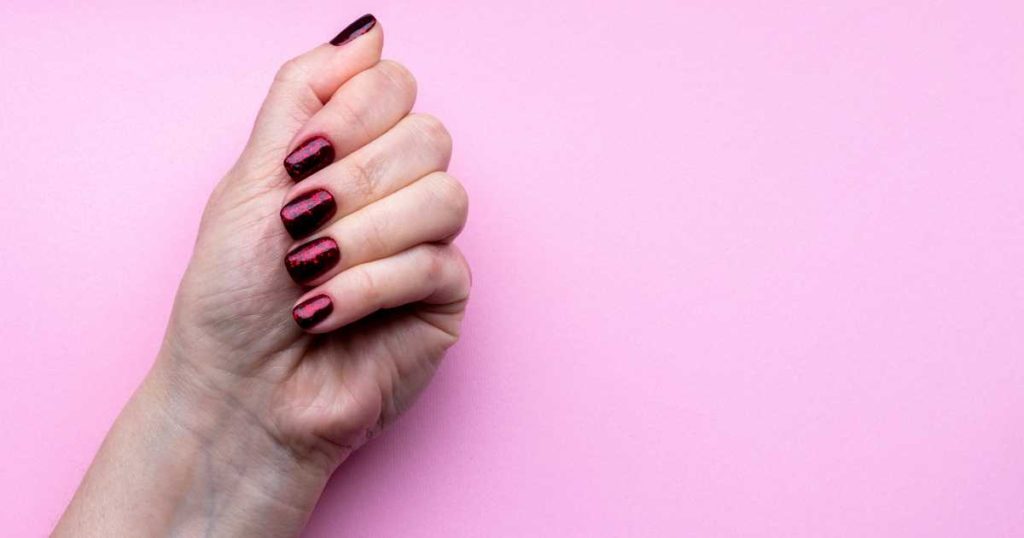 Another Pro Tip: one of the best things when it comes to taking proper care of your nails after acrylics is to trim your nails short and close to your natural nail shape. If you don't want to wear acrylics anymore and want to transition into wearing your nails naturally, the first step is to keep them short. 
This will also prevent breakage and future damage. It's best to use paper or glass files to keep them short, as it is the most gentle way around it. 
At-home Treatments
If you want healthy nails after acrylics, you should always use at-home treatments. At-home treatments are great because they can be frequently reapplied and hence very effective. 
Another great thing is that at-home treatments won't break the bank. Most of the remedies can be found in every kitchen. A great secret for keeping your nails strong and healthy is olive oil. Oils are great for both cuticles as well as the nail bed. The nail bed becomes more flexible when oil is applied. 
However, oil molecules are big and it takes them longer to penetrate the plate. If you want the oil to be fully absorbed by the nails, the best way is to give it 15-20 minutes in the plastic gloves. You can also find overnight treatments, as well as creams or pre-made oil mixtures. 
Essential Oils
Essential oils can be a great addition to your oiling routine. Depending on the condition of your nails you can choose from some of the popular oils like lavender, lemon, rosemary, or tea tree oil. Lavender is a great essential oil for the hydration of dry or brittle nails. 
Lemon essential oil is known to help harden nails that are prone to breakage. Rosemary and tea tree oils are usually used for their disinfecting properties. All essential oils are meant to be used as an addition to the carrier oil like olive oil, jojoba oil, rosehip oil, or grapeseed oil. 
Carrier oils are also a great source of nutrients for nails, like fatty amino acids and vitamins E and A which promote nail health. 
Professional Treatments
Most nail salons offer professional treatments that restore and regenerate nail health after the set has been removed. Salon treatments are great ways to take care of your nails after acrylics. 
Professional treatments are usually more potent and their benefits can last up to a few weeks. Professional treatments are usually based on using proteins and hydrating agents to fill in all the areas of damage. This helps your nails look healthier, shinier, and stronger after just one appointment. 
There are also more traditional approaches to the restoring nail bed after removing acrylics such as getting a Japanese manicure. Japanese manicure is a traditional Japanese method of keeping your nails shiny and healthy using beeswax. 
Diet and Hydration
Even though it takes time to see the results of a healthy diet on your nails, hair, and skin – it's worth a while. Approaching nail health from within is the way to go. No treatment will work miracles if you are vitamin or mineral deficient. 
People who struggle with nail breakage or dry and brittle nails, have to watch out for their micronutrient consumption. Some of the great food options that promote nail health are lean meats, eggs, berries, nuts, and seeds. When you look for nutrients in food, you should search for foods that are rich in vitamin B, iron, magnesium, omega-3 fatty acids, and protein. 
If you are still unable to meet your nutrition goals with food alone, there are great supplement options specifically designed for nails, hair, and skin. Drinking your water is another very important factor, as nails are made up of water just like hair, skin, and the rest of the body. 
Traditional Nail Polish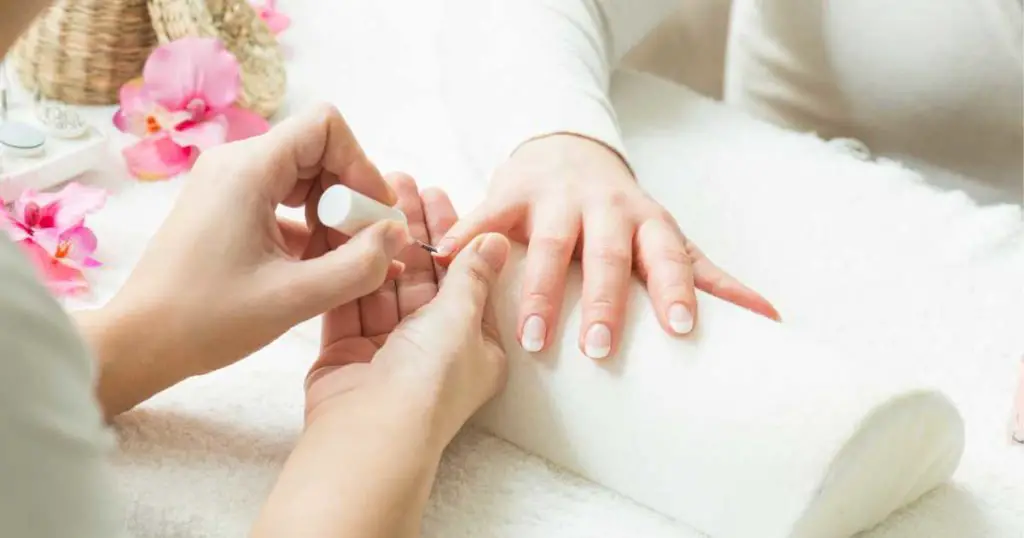 Even though many stopped using traditional nail polishes together after different types of gel polishes hit the market, traditional nail polish is still a great option for transitioning to natural nails or giving your nails a break. 
Even though traditional nail polish is not as durable and glossy as gel ones, it is simple to use, requires no buffing of the nail plate, and is removed without damaging the nail. Another option is finding a salon that offers some of the gel options that are based on natural ingredients and can be easily removed at home. 
Conclusion
As fun and eye-catching acrylic nail sets can be, many are left wondering how to take care of nails after acrylics. Nail care after acrylics is simple but requires time and patience. Keeping your nails short and close to their natural shape,  while treating them at home or in the salon should be enough! 
If your nails are extra sensitive, a good nail technician will provide you with more options. If your nails are red, inflamed, or sore, make sure you skip the nail appointment and visit your dermatologist first. In case your nails did get damaged and thin, the best thing you can do is just wait it out. 
While you let your nails grow, make sure your diet is rich in vitamins, minerals, proteins, and fatty acids.  Supplementation is a great option at this time. A nutritious diet will provide building blocks for your nails so they can grow faster and stronger. Having all of this in mind, don't forget to stay hydrated and enjoy the process!