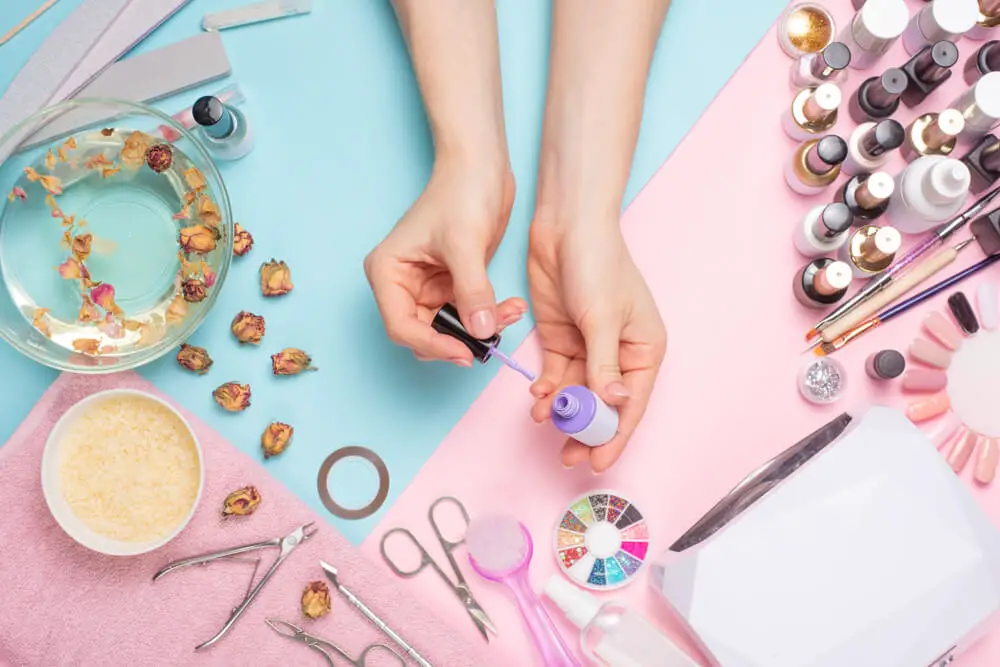 Every now and then people ask me if they can use acrylic paint instead of nail polish and once I respond they will go ahead to ask if acrylic paint on nails is damaging.
So I decided to write this blog post to answer it all.
Yes, you can use acrylic paint as nail polish and if you use the nontoxic acrylic paint and apply a base coat, it will not damage your nails.
Some of the most beautiful nail arts we see on Instagram were derived from using acrylic paint.
It is important to note that you can apply acrylic paint on both your natural nails and on your extension tips.
So yes, acrylic paint can be used as an alternative to regular nail polish.
Paint Your Nails Using Acrylic Paint As Nail Polish In The Following Steps
Remove any old nail polish from your nails.
Prep, clean, trim, file and buff nails.
Pick an acrylic paint color.
Apply a base coat.
Apply two coats of acrylic paint evenly.
Allow acrylic paint to dry.
Apply top coat to add an extra gloss and to make it more durable as acrylic paint on its own is not long lasting. Adding top coat also locks in your nail art designs if you have added some. But if you want a matte nail look then you can skip the application of a top coat.
Removing Acrylic Paint From Your Nails
If the acrylic paint is wet, wash the paint off with warm water.
If the acrylic paint is already dry, you can remove the paint with acetone.
You can also use a regular nail polish remover to remove acrylic paint off your nails.
Acetone would most definitely do the trick as well.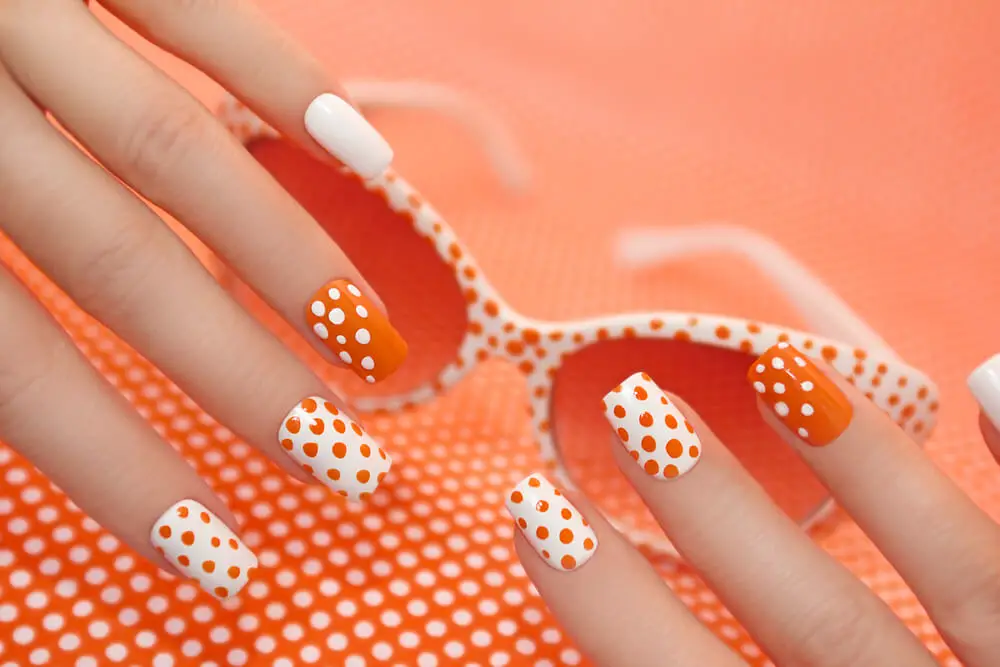 All About Using Acrylic Paint On Your Nails Instead Of Nail Polish
There has been some fancy nail design flying all across Instagram.
Did you know that you can achieve those fancy nail designs with acrylic paint and become a total Instagram baddie?
Well, now you know so I think you should head to the store to grab some acrylic paint for yourself, for some nail DIY projects.
Here are some reasons why you should use acrylic paint on your nails:
You can create a wide variety of colors as long as you have the three primary colors.
It is easier to use to paint, and they are error friendly as you can easily clean off mistakes without cleaning off the whole paint or design. If you are a beginner, then you should go for acrylic paints for your nails.
Acrylic paints are true to color, the color comes out with one application. The colors are also very vibrant.
If you love matte nails, then acrylic paints for your nails is for you as acrylic paint dries off matte.
Are you on a budget, frugal or are you moving towards financial freedom? If yes, in that case using acrylic paint for your nails is a must do as acrylic paints are so much cheaper and they come in larger quantity.
Using acrylic paint as nail polish enables creativity.
Can You Mix Acrylic Paint With Nail Polish?
I also get this question a lot and sadly the answer is no.
You cannot mix both acrylic paint and nail polish together because they are made up of different composition but what you can do is apply your nail polish on your nails and once it has dried you can apply an acrylic paint over it.
Another great option is using acrylic paint pen to make designs on your nails.
They can be used on nail polish and they can also be used on an acrylic paint, they are usually used for its precision in order to get a clean and neat design, they are more portable, more flexible.
What is the difference between using an acrylic paint on your nails and using a nail polish?
Regular nail polish can be used as a base coat to protect the nails from damages while acrylic paint is usually used on the nails for nail art.
Regular nail polish is usually thin and light whilst acrylic paints are thick.
Nail Polish give a subtle finish whereas acrylic paint gives a vibrant finish.
Nail polish dry glossy meanwhile acrylic paint dry as matte.
Regular nail polish gives your natural nail strength whilst acrylic paint just gives decorative vibes.
Conclusion
In summary, you can totally use acrylic paint as nail polish without damaging your nail bed. I hope you got all the answers you were looking for please let me know if you gained something today and also let me know if you are willing to try out acrylic paint as a nail polish in the comment section.
Maybe you are interested: All sbout Painting Nails with Acrylic Paint