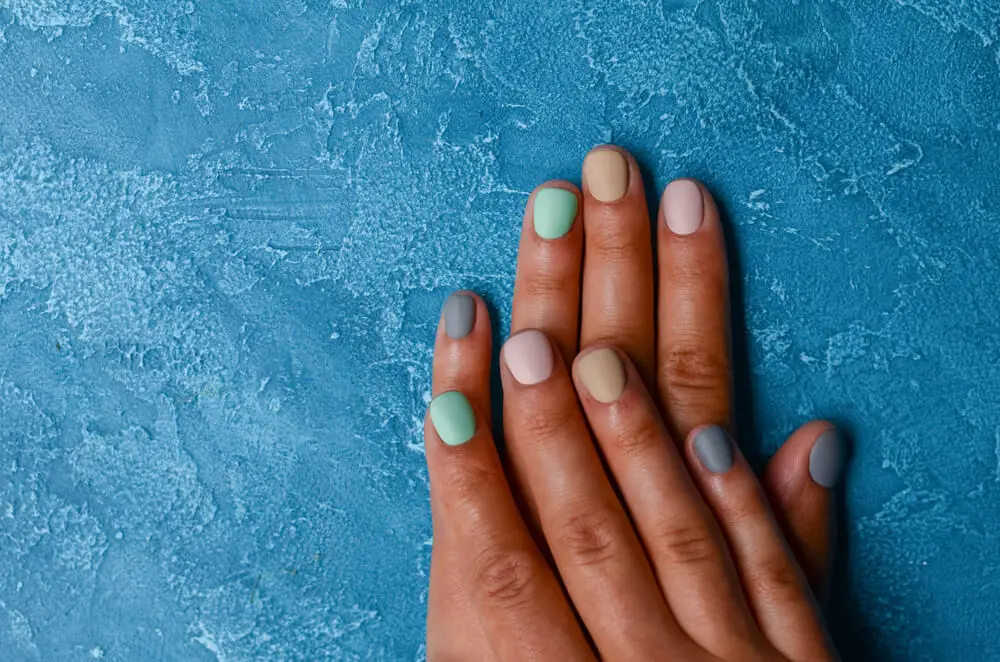 Acrylic paints are fast drying paints made out of pigments suspended in acrylic polymer emulsion.
Most times, acrylic paints are water based but become water resistance when dried.
Acrylic paints are usually used on canvas which could be wood, metal, ceramic, fabric, anything really. 
Can you use acrylic paint on nails instead of nail polish?
Yes, your nails can also be a canvas for acrylic paint even though they were not designed to be used on the nails.
Acrylic paint can be used as a substitute for regular nail polish.
It is important to note that acrylic paints could be toxic so make sure to check the packaging of the acrylic paint to know what ingredients were used.
Ensure you understand the potential risk of having any of the ingredient stated on the container of the acrylic paint on your finger nails.
Acrylic paint can be used on your natural nails, stick on, acrylic nails and overlays.
Step By Step Guide On How To Protect Yourself From Acrylic Paint
Keep the paint out of your eyes and mouth. Avoid eating when using acrylic paints. If the acrylic paint gets to your eyes or mouth, see a doctor immediately.
Wash your hands rigorously after using acrylic paints.
Use eye protection if you can, wear a nose mask as well as the odors are strong because of the chemicals in them and inhaling strong chemicals is bad for your health.
Acrylic paints should be kept far away from children.
Make sure you are painting your finger nails in a well ventilated room.
Your nail technician should be wearing rubber gloves while applying acrylic paint.
Easy Step By Step Guide On How To Paint Your Nails With Acrylic Paint
Remove any old nail polish from your nails.
Prep, clean, trim, file and buff nails.
Pick a color.
Apply a base coat.
Apply two coats of acrylic paint evenly.
Allow acrylic paint to dry.
Apply top coat to add an extra gloss and to make it more durable as acrylic paint on its own is not long lasting. Adding top coat also locks in your nail art designs if you have added some. But if you want a matte nail look then you can skip the application of a top coat.
How To Remove Acrylic Paint From Your Nails
If the acrylic paint is wet, wash the paint off with warm water.
If the acrylic paint is already dry, you can remove the paint with acetone.
Using Acrylic Paint All Over Your Nails Instead Of Nail Polish
There has been some fancy nail design flying all across Instagram.
Did you know that you can achieve those fancy nail designs with acrylic paint?
Well, now you know so I think you should head to the store to grab some acrylic paint for yourself, for some nail DIY projects.
Here are some reasons why you should use acrylic paint on your nails:
You can create a wide variety of colors as long as you have the three primary colors, red, blue and yellow, also white and black to get any color shade. For example, mixing blue and yellow will give you green and if you want a lighter green you can add white to the mixture.
It is easier to use to paint, and they are error friendly as you can easily clean off mistakes without cleaning off the whole paint or design. If you are a rookie, then you should opt for acrylic paints for your nails.
Acrylic paints are true to color, the color comes out with one application. The colors are also very vibrant.
If you love matte nails, then acrylic paints for your nails is for you as acrylic paint dries off matte.
Are you on a budget, frugal or are you moving towards financial freedom? If yes, in that case using acrylic paint for your nails is a must do as acrylic paints are so much cheaper and they come in larger quantity.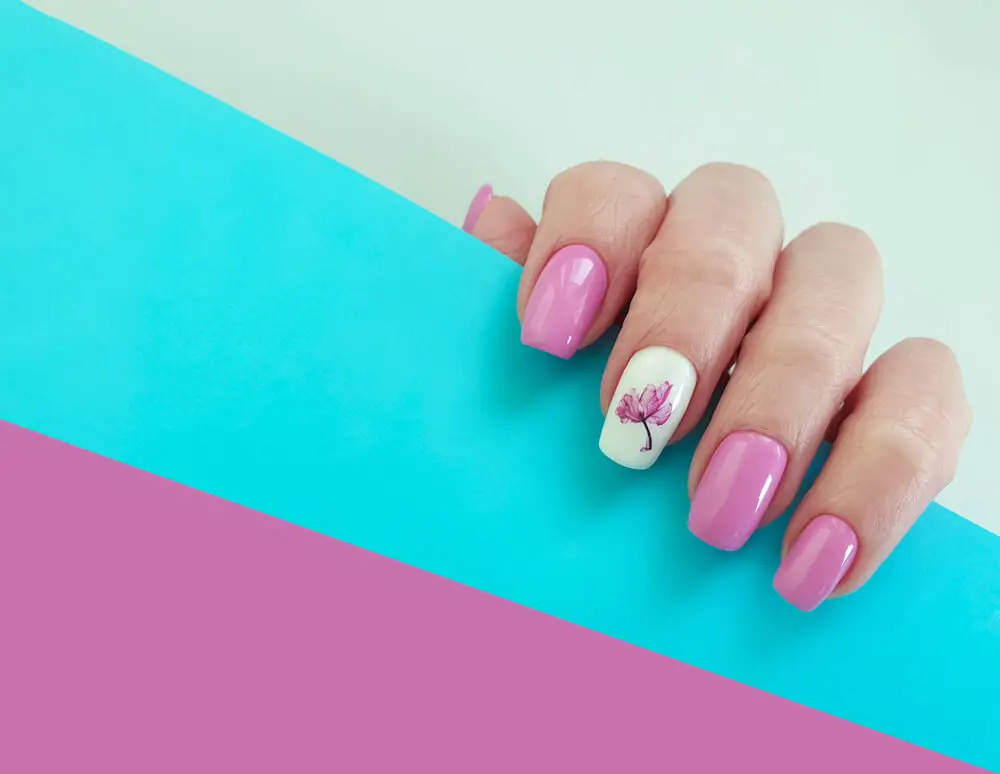 Why You Should Not Use Acrylic Paints On Your Nails
Acrylic paint can contain toxic substances that will harm your nails.
Because acrylic paint dry fast, they make hard to blend.
The colors become darker once they have dried.
Acrylic paints tend to stain your finger nails as your nail bed will easily absorb all the pigments in the acrylic paint, leaving stains on your nail bed. Apply a base coat to prevent acrylic paints from staining your nail bed.
It is worth noting that some of the cons of using acrylic paints is applicable to using regular nail polish, for example some nail polish contains toxic substances that we are unaware of, nail polish also has tendencies of staining our nail bed that's why when you go to a nail salon for a manicure they always use hardener as the base coat.
At What Point Should I Consider Using Acrylic Paint On My Nails?
You should consider using an acrylic paint over a nail polish if you have run out of nail polish, for the fun of it, for a temporary nail art, when you are experimenting and trying to be creative. You can also consider using acrylic paint on your nails if you are a beginner.
That is all for "Can you use acrylic paint on nails?" as we now know the answer is yes as long as you are sure you are using the non-toxic acrylic paint.
Please let me know if you enjoyed and learnt something from this blogpost in the comment section below.