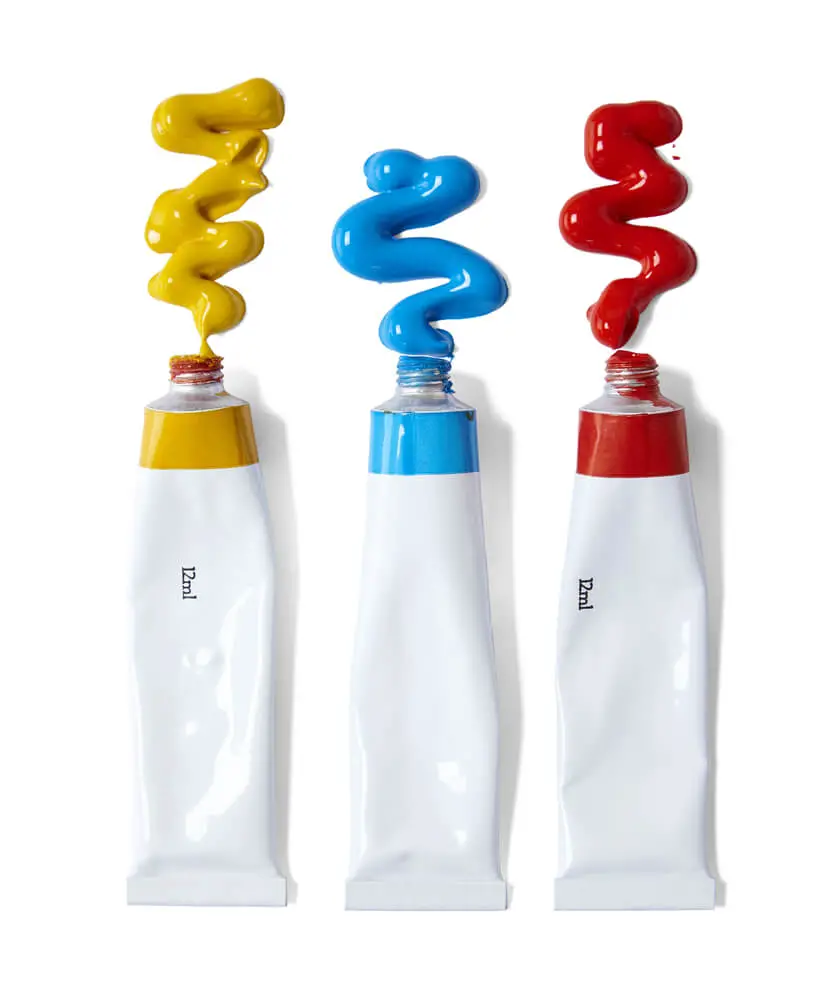 Acrylic paints are made up of pigments, binders and vehicles that consists of plasticizers, defoamer, metal soaps, etc.
Pigments are grounded solids that gives color, they do not dissolve but they remain in the acrylic paint. They could be natural or man-made.
Binders are substances that keep pigments in composition after the acrylic paint dries. Acrylic polymer acts as the binder of acrylic paints.
Vehicle is the part of the paint that carries both the pigments and the binders, for example water is the vehicle for water based acrylic paint as it carries both the pigments and the binders. Once the water evaporates from the mixture it leaves the paint dry, trapping all the constituents of the acrylic paint.
Acrylic paint can be used on the nails even though they were not designed to be used on the nails.
Also acrylic nails could be very toxic (if they contain lead, cadmium, chromium and any other heavy metals) you will have to use the nontoxic one on your nails as applying the toxic acrylic paint can damage your nail beds.
Ensure you read the label of the acrylic paint you want to use in order to confirm it does not contain toxic substances.
Always apply a base coat before using acrylic paint, always!
This creates a protective layer making sure that no toxic substance is getting in contact with your nails.
It also reduces the chances of the acrylic paint staining your nails.
Painting Nails With Acrylic Paint In Easy Steps
Remove any old nail polish from your nails.
Prep, clean, trim, file and buff nails.
Pick a color.
Apply base coat.
Apply two coats of acrylic paint evenly.
Allow acrylic paint to dry.
Apply top coat to add an extra gloss and to make it more durable as acrylic paint on its own is not long lasting. Adding top coat also locks in your nail art designs if you have added some.
How To Remove Acrylic Paint From Your Nails
If the acrylic paint is wet, wash the paint off with warm water. If the acrylic paint is already dry, you can remove the paint with acetone.
Acrylic Paint Vs Regular Nail Polish
Acrylic paint dries faster than regular nail polish so when applying acrylic paint do it as fast as possible before the paint dries.
Acrylic paints have little to no odor while traditional nail polish have strong odors.
Acrylic paint is water-based which makes it come off easier than nail polish as it can be removed with water if not fully dried.
Acrylic paint is cheaper than regular nail polish and acrylic paint comes in bigger containers compared to that of regular nail polish.
You can easily make different colors of acrylic paint as long as you have the three primary colors which are; red, blue and yellow.
Acrylic paint dries out in matte and needs a top coat if you intend to go for a glossy look while nail polish does not dry out matte.
Acrylic paint makes creating a detailed nail art easy. Creating nail art with nail polish can easily get messy.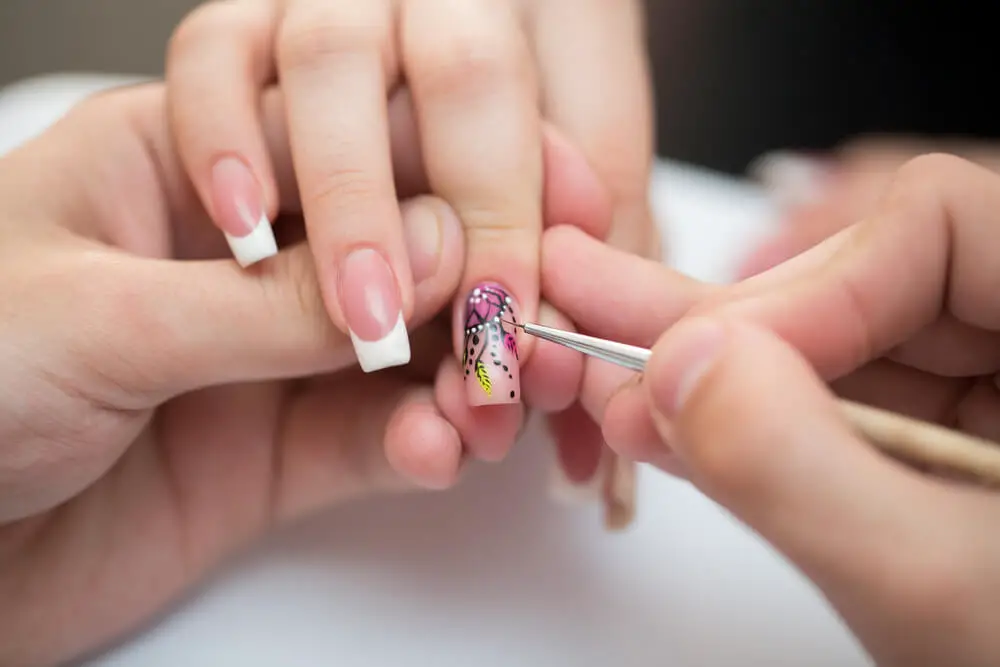 Reasons To Use Acrylic Paint For Nail Art Instead Of Nail Polish
Hues: you can create different hues with acrylic paint by mixing and matching different colors of paint giving you so many varieties with nail polish you can't do that.
True to color: nail polishes are not true to color as you have to layer a color severally for the true color to show but with acrylic paint the color comes out with one application.
Easy to correct mistakes: when you make a mistake trying to create nail art whilst using nail polish, you will have to clean the whole thing off including the background color but with acrylic paint if you make a mistake, you will just need water to clean the nail art; this does not wipe out the background color.
I will suggest using acrylic paint to make nail art instead of applying it all over your finger nails.
They are also easier to use to make nail art than regular nail polish as they are easier to work with when trying to create detailed illusions such as fine thin lines, tiny dots, patterns and any other hand sketches.
When trying to create nail art on the finger nails brushes are required for precision, acrylic paint will easily come off a brush with the use of water but a regular nail polish will spoil the brush when you try to clean it up and they might eventually need to be trashed or you can clean them with acetone instead.
Do not dilute the acrylic painting with more than 20% of water as it destabilizes the components of the paint.
When an acrylic paint is used to make nail art and it is drying it is advisable to add little water to get it back to its original state but anything more than 20% ruins the paint.
Conclusion
In conclusion, painting nails with acrylic paint is not advisable as they are just too risky for the health of your nails.
Some acrylic paint might say non-toxic on the body of the container when they actually contain harmful substances.
It is better to be safe than sorry so play it safe by avoiding acrylic paint on your nails totally.
Share your opinion with me in the comment section and let me know if you have tried painting your nails with acrylic paint or it is something you are willing to try.