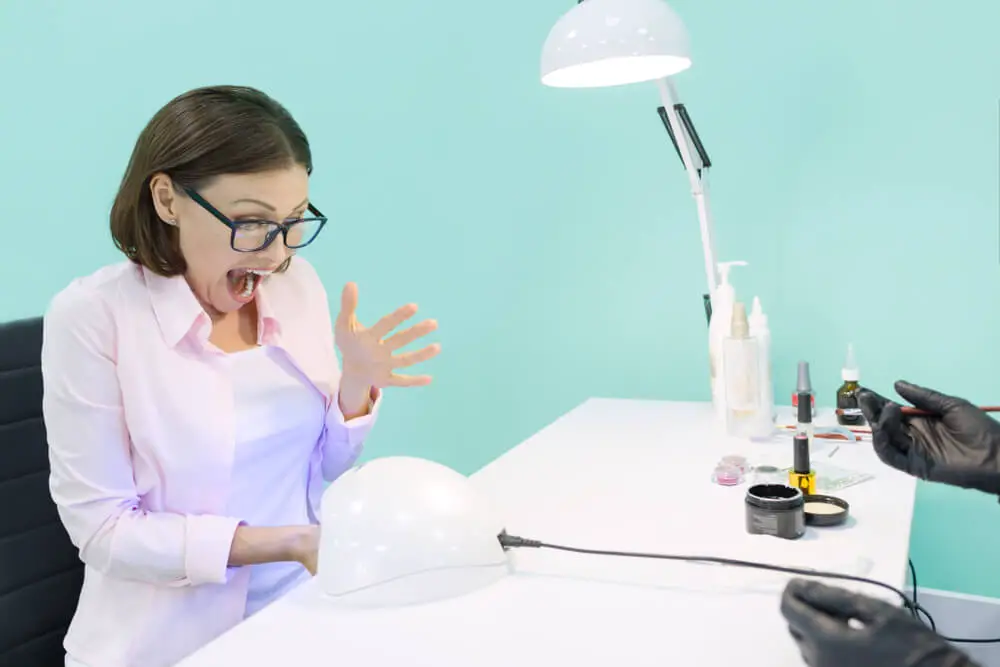 There are so many reasons why you might get a burning sensation after getting your acrylic nails done and I am here to break it all down.
The burning sensation could be uncomfortable and unpleasant depending on the severity.
To find out what causes the burning sensation and how to prevent it from happening to you then you need to keep reading this blog post.
Here are some reasons why your nails burn when you get an acrylic:
Improper preparation of nails: if you have noticed in almost all the blog post I have written, I always emphasize on prepping your nails because an improper preparation of your nails can cause your acrylic nails to burn. When too much pressure applied when your nails are being filed and buffed can cause a burning sensation because you have most likely removed some layers of your natural nails causing an irritation. A burning sensation will also occur if the nail bed has been injured during the nail prep. Using a drill instead of a nail file can dent and cause injury to the nail bed leading to a burning sensation.
Curing process: if you got your gel acrylic nails cured there is a probability for it to burn if not done properly. The amount of heat applied to your gel acrylic nails during curing can cause burning, it is advisable to slow down on the curing process either by using a slower curing gel or by taking your hands out of the UV light every now and then.
When too much of methacrylic acid primer is used: first of all, primers should only be applied on the nail bed and not get in contact with any skin surrounded by your nails. If you feel a burning sensation after priming your nails, I recommend soaking your hands in baking soda and water for about two to three minutes to neutralize the burning effect. The acid contained in the primer is the reason for the burning sensation hence you should apply the nail primer moderately.
First time getting acrylic nails done: this is a new thing for your natural nails so it may react with a burning sensation to adjust to the added pressure being applied on your nail bed by the acrylic nails most especially if you have a thin nail bed.
A thin nail bed: If you have a thin or weak nail bed you are prone to get a burning sensation once you have fixed your acrylic nails because of its contact with the nail glue. Applying nail glue to a thin or weak nail bed can cause a burning sensation because when the nail glue cures it could emit heat. I recommend using a medium viscosity glue on a thin nail bed and if your nail bed is weak I will advise waiting for it to get stronger before fixing acrylic nail. Also ensure when the nail technician is applying the nail glue, it doesn't touch your skin.
Thick acrylic nails: when applying the acrylic powder unto your nails ensure you are applying thin layers because the thicker the acrylic nails the more pressure applied to your natural nail bed which can cause a burning sensation. Nail technicians should buff the acrylic nails well enough to make the acrylic nails thin because having thick acrylic nails can lead to bleeding due to the pressure of the acrylic nails.
Things You Should Do To Stop Your Acrylic Nails From Burning
If you feel a burning sensation immediately after fixing your acrylic nails, dip your nails into some luke warm water or spray alcohol on affected nails. This will help tone down the heat caused by the acrylic nails.
Opt for shorter acrylic nails as this will require the use of less acrylic powder. Clean your nails with warm water to prevent a likelihood of infection.
Ensure when the nail technician is applying the nail glue, it doesn't touch your skin, substitute your regular nail glue for a medium viscosity one if you are dealing with a thin nail bed.
Nail technicians should only use a nail file and not a drill because anything electric has a tendency of leaving a dent on the nail bed which can in turn cause a burning sensation.
Always let your nail technicians know when you feel any type of pain or discomfort whilst they are fixing your nails.
Conclusion
So why do my nails burn when I get acrylic nails?
Your nails most likely burn because of one or more of the reasons stated in this blogpost.
For better understanding, acrylic nails burn because of the chemicals present in the whole acrylic nails process.
Most burning sensation are temporary and should not last up to 24 hours and if it does I will advise you take off your acrylic nails and take pain killers.
Please let me know if you have ever experienced a burning sensation after getting acrylic nails done and what you did to the burning sensation in the comment section.
Can you also spot the reason why your acrylic nails were burning from the reasons giving in this blogpost?