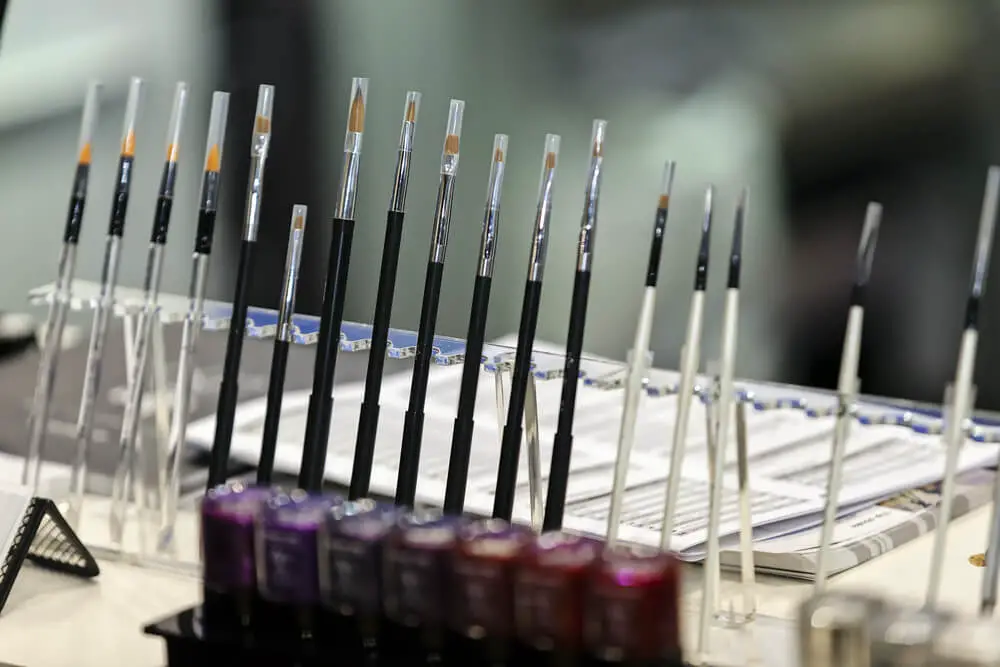 Are you a beginner and do you want to be a part of the nail community? Either for your personal use or to make a living, this blog post is for you so read to the end of this as I will be helping you out with your soon to be "bestie".
Eventually, your acrylic nail brushes will become your "bestie" because they are the most used tools when creating beautiful acrylic nails. You will use them to create different type of acrylic nails for different people.
So if you want to be great at acrylic nails, you need to have a thorough understanding of what the brush is, complete knowledge of how to keep it clean and know how to use it properly so it can last a long time.
Every nail technicians knows that the acrylic nail brush is the most important tool to achieve a nice acrylic set, so as a beginner I will advise you to invest in a good set of acrylic nail brushes. I don't believe, your brush is what makes or break your acrylic nails I think it is the technique used but as a beginner while you are still trying to master your technique you should ensure you are using a good brush.
What Is An Acrylic Nail Brush?
An acrylic nail brush helps with the improvement of nail application. An acrylic nail brush has three main parts and the most important part is the bristles as that is the part that gets the work done.
Bristles are made of animal hair or synthetic materials. Brushes for acrylic nails use "soft" hair bristles, as opposed to stiffer ones. Before thinking of the size or shape to buy make sure it's made from 100% kolinsky sable hair. These brushes hold the perfect mix of liquid and powder and allow you a great degree of manipulation of an acrylic ball. 
The ferrule is a cylindrical middle part of an acrylic nail brush. This part is usually made from metal and is a thin tube so the bristles can be inserted inside and a special glue is used to keep it together. The outer surface of a ferrule is coated with stainless steel to prevent rust. It is important to note that when you are cleaning your brush with water do it in a way that the water does not get to the ferrule so as it doesn't wash away the glue for a long lasting brush.
The handle is the part that is attached to the other end of a ferrule. The long handle gives a user better control of the nail brush. The handle is usually made from wood and some plastic.
Now that you know what an acrylic brush is and what makes an acrylic brush, let's talk about the perfect size for a beginner. The sizes of an acrylic brush can be split into three main categories; small, medium and large. They all have different purposes but I will advise a beginner to make use of the medium size acrylic brush as it gives you the best of both the small size acrylic brush and large size acrylic brush.
As a beginner you should get a size 6 or 8 brush as they fall into the medium sized. As you progress towards becoming a pro, you can start using bigger brushes and smaller ones for details.
Best Shape Of Acrylic Nail Brush For Beginners
For the shape of an acrylic nail brush, I will advise a beginner to go for a flat shaped brush. It has the advantage of being very easy to use in applying the acrylic along the length of the nail. It is great for you if you are just getting started. But the problem with flat brushes is that it doesn't hold enough liquid and might leave you with very thick beads. So it is important for you to note that whilst using a flat shaped brush, you should be generous with your liquid monomer.
How Much Do Acrylic Nail Brush Cost?
A good acrylic nail brush will cost about $30 – $50. And they are worth investing in as they could last for years if taking care of properly.
Cleaning Your Acrylic Nail Brush With Acrylic Liquid In Five Simple Steps
There are so many ways to clean your acrylic nail brush but for today we will be only talking about one method.
After you are done with your brush, put it down on paper towel at a dry clean spot and fold the paper to cover the bristle.
Using one finger to press down on the bristles to remove the liquid.
Then dip the bristles in your liquid dish to wet them.
Dry the bristles with a new spot on the paper towel and recreate the bristles' original shape as you press down with your finger.
Hang your brush on a secured place to dry.
Four Things Not To Do So That Your Acrylic Nail Brush Can Last A Long Time
Do not press bristles against paper towels as you are doing acrylics.
Do not run your bare fingers along with bristles.
Do not push down on the bristles too hard.
Do not wipe the bristles on paper towels so many times.
Summary
An acrylic nail brush is a tool that helps a nail technician make various beautiful sets of acrylic nails. Ensure to select a quality acrylic nail brush as many bristles are not of excellent quality and are not solid. I hope you have learnt one or two things, please let me know what you have learnt today in the comment section.