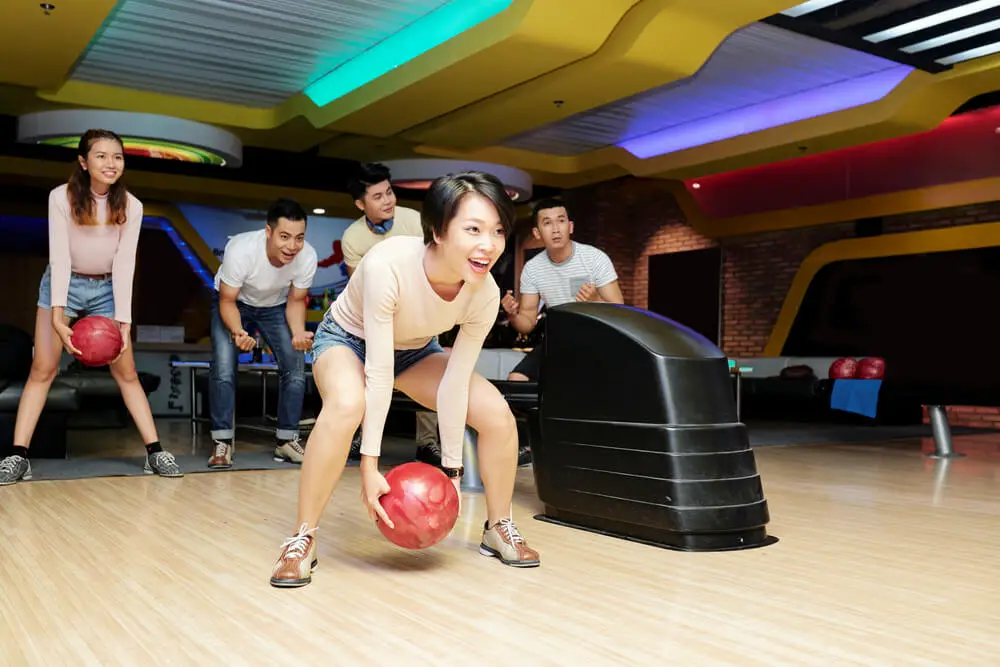 Are you a lover of bowling?
Are you also a nail lover?
If your answer is yes for the both of them then this blog post is for you.
You don't have to quit something you enjoy doing (bowling) because you love fixing long acrylic nails, you can eat your cake and have it with this one.
Today I will be answering a frequently asked question: can you bowl with acrylic nails?
The answer is yes!
But you will have to be extra careful and learn the technique I will be talking all about later in this post.

The technique you will use does not require you to put your finger nails in the holes of the bowling ball preventing your fingernails from having any contact with the bowling ball which makes it safe for you to bowl with acrylic nails.
You will need to hold the bowling ball with your two hands, stand at the foul line with your two legs wide open for balance then roll the bowling ball between your two legs.
Note that if you are a pro bowler you can't use this technique as it is not accepted in the bowling league, this technique is for a night out with your friends at a bowling centre.
Can You Bowl With Acrylic Nails As A Pro Bowler?
Yes, you can play as a pro bowler with your acrylic nails but it's going to take constant practicing with your long acrylic nails and I suggest you practice with a larger bowling ball because they have bigger holes in them for a firmer grip and they give you enough space between your fingers and the ball curbing any chances of you hurting your nails in the process.
After constant practice you will definitely get used to it.
The larger the bowling ball the heavier it because, it is also advisable as a pro bowler to hit the gym if you want to bowl with bigger balls to build up your upper body strength.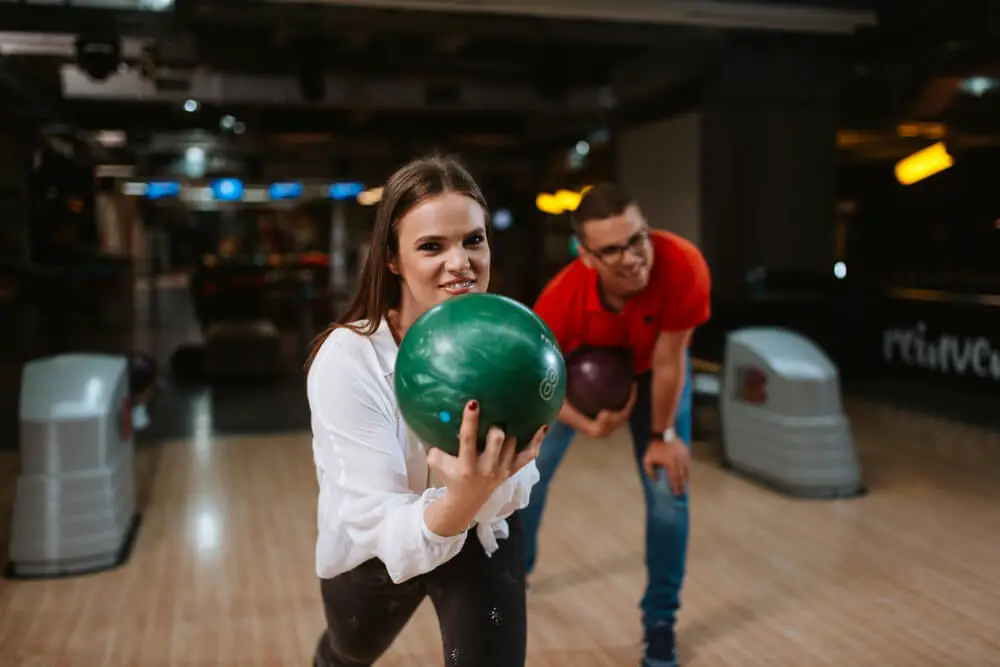 Personal Protective Equipment For Nails To Use When Bowling
Personal protective equipment also known as PPE: as the name implies is anything required to be worn by an individual for safety or health reasons.
Nail saver individual bag: these are individual bag that usually come in a set of ten, they must be worn properly on your fingernails to protect them. When bowling, you can either wear the protective bags on all your finger nails or the nails you will stick into the bowling ball.
Nail tip protector: this is a tube looking cap used to cover the tips of your finger nails, when worn over acrylic nails, they protect your acrylic nails because of their ability to fit your finger nails snuggly. This saves your acrylic nails from any type of cut.
Bowling tape: they are usually used for the thumb only to give it more strength to withstand and added force caused by bowling to your thumb, but if you need protection for your other nails you can use them to strengthen them, preventing your acrylic nails from, chipping, breaking as it shields your nails from direct contact with the bowling ball.
Finger cot: these are also known as finger gloves; they are cheaper than the other protective pieces mentioned above. They protect your finger nails from making any direct contact with the bowling ball.
The type of protection used for your acrylic nail is all up to you, choose the one you are most comfortable with for your injury free bowling session.
And if you don't think using protection on your finger nails is for you, have you thought of bowling with shorter nails?
I'll advise you bowl with shorter nails especially if you visit the bowling centre every other week.
It is so much safer and less prone to injuries.
Nail Care Tips
For any form of activity with acrylic nails, including bowling, you will need to take extra care of your nails.
Here are some nail care tips for you:
Take nail supplements: nails supplements with vitamin b complex, iron, magnesium, protein, omega three fatty acid, vitamin c and zinc will help the growth of your nails, formation and texture of your nails and lastly they will help strengthen your nails. You can incorporate certain food that contain the food nutrients stated above into your diet instead of nail supplements, so include protein (turkey, chicken, beef, eggs), fruits (blueberries, strawberries, bananas, kiwis), vegetables (spinach, broccoli, kale, sweet potatoes, carrots, tomatoes, ball peppers), nuts and seeds (almonds) and some fatty acid (salmon) for healthy finger nails.
Use rubber gloves when doing any chores that includes water or any form of chemicals for example washing the dishes.
Soak your nails in olive oil, do this on a weekly basis. This moisturizes your nails and provides nutrients directly to your nails.
Drink plenty of water: I know this is so cliché but trust me drinking water works. Dehydration might just be the reason your nails are so dry, brittle and weak.
Conclusion
Ensure your acrylic nail hasn't cracked before you go bowling as they can be easily damaged during an activity and if they have please take them off to prevent nail injuries during bowling or don't go bowling until the crack has been taking care of.

Go have fun bowling with your beautiful acrylic nails.
Do you know any other way you can protect your finger nails during bowling?
Please let me know in the comment section.