Getting your natural nails decorated isn't just wonderful to have a bit of fun, but it also helps to express who you are. 
These days there are many different types of nail designs to choose from. So finding one that you really like shouldn't prove at all difficult. 
These days an experienced nail artist will be able to come up with a design that truly shows your personality. They are able to use a wide range of colors and patterns to create a design that is completely unique to you. 
So, what is the most popular nail design? If you are unsure what design to go for, you may want to consider some of the following popular designs for applying to natural nails. 
What is the Most Popular Nail Design?
Every year you will find that tastes change somewhat when it comes to nail art designs. 
What could be nicer than visiting your local nail salon and enjoying a bit of pampering? At the same time, you could be going for a new shape or color relating to the biggest nail trends that really show your personality. 
Below we look at what are considered to be some nail trends that are going to prove popular in 2023 as they were in 2022. 
Style 1 – White and Gold Nails
The great thing about white nails is that they are chic and can be worn all year long. 
To help highlight the length and shape of your nails, consider adding a little more detail to them. With this nail design adding a touch of gold to the tips of your nails will help to make them look more luxurious. 
Style 2 – Matte Gray Ombre Nails 
The color gray is versatile, and you will also find that it is very attractive, even if you have short or square nails. 
These days you will find that there are numerous shades of gray to select from, so finding one that suits your tastes and skin color shouldn't be too difficult. 
If you want to do something different, think about painting each shorter nail in a distinct gray color. You might even consider adding some pastel shades into the mix.
Style 3 – Mix and Match Nails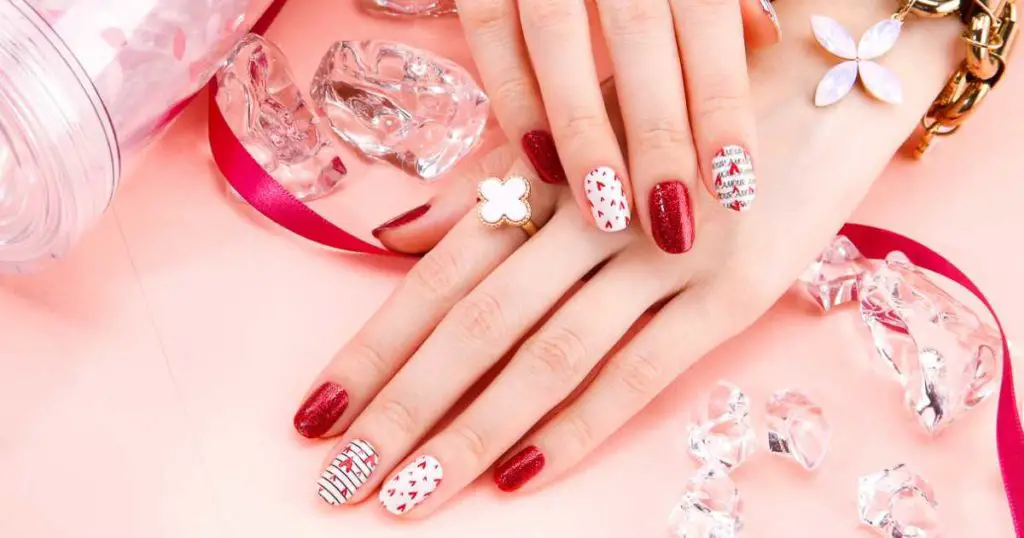 If you need help choosing a nail design, why not combine several different designs? 
This particular nail design will prove popular as it allows you to get creative and use popular nail colors.
Not only can you choose different colors and bright shades, but experienced nail artists can also apply artwork to your natural nails.
If you like to stand out from the crowd, this is the perfect choice for you. 
Style 4 – Sparkly Nails 
If you are looking for nail designs that show others you are confident, then this is the design for you. 
Most women tend to choose such designs to wear at Christmas, but you can wear these designs throughout the entire year if you'd like to. 
Not only do sparkly nails help to draw attention to your hands, but they also highlight the shape of your nails. 
To make this design more versatile, combine two or three colors. Plus, if you intend to wear such nail designs throughout the year, go for muted colors that you mix with gold glitter and a glossy finish. 
Style 5 – Black and Red Nails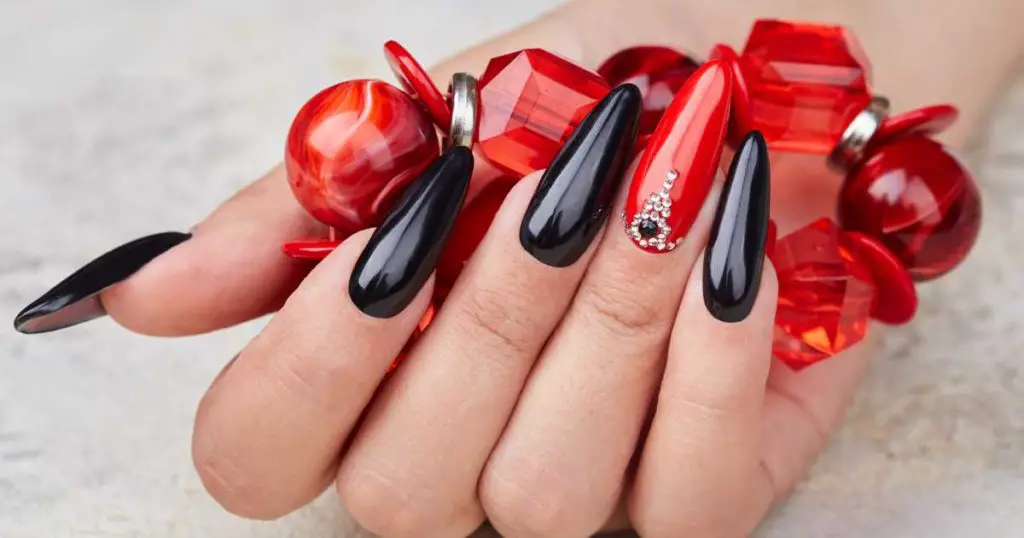 You will find that combining these two colors makes for some genuinely striking nail designs. 
You can start by simply painting the main part of your nail black and the tip of square nails or stiletto nails with red nail polish to add a pop of color. 
On the other hand, if you want to create something a little more dramatic, use a black nail polish base coat. Once the base coat has dried, you can paint interesting patterns using bright red nail polish that looks good even on square nails. 
Whatever detailed nail art you select, using black and red together will help make your nails look longer. It will also help to highlight their beautiful shape. 
Style 6 – Classic Nude Nails 
This design is ideal for wearing every day and looks terrific whether you are dressed casually or in something a little more formal. 
The wonderful thing about this design is that you can find a color that best matches your skin tone. By choosing the right nude shades, you will end up with a chic natural appearance to your nails. 
The main benefit of using nude nail polish is it looks great on any shape or length of the nail. Plus, it is something that you can easily do yourself at home. 
Style 7 – Emo French Nails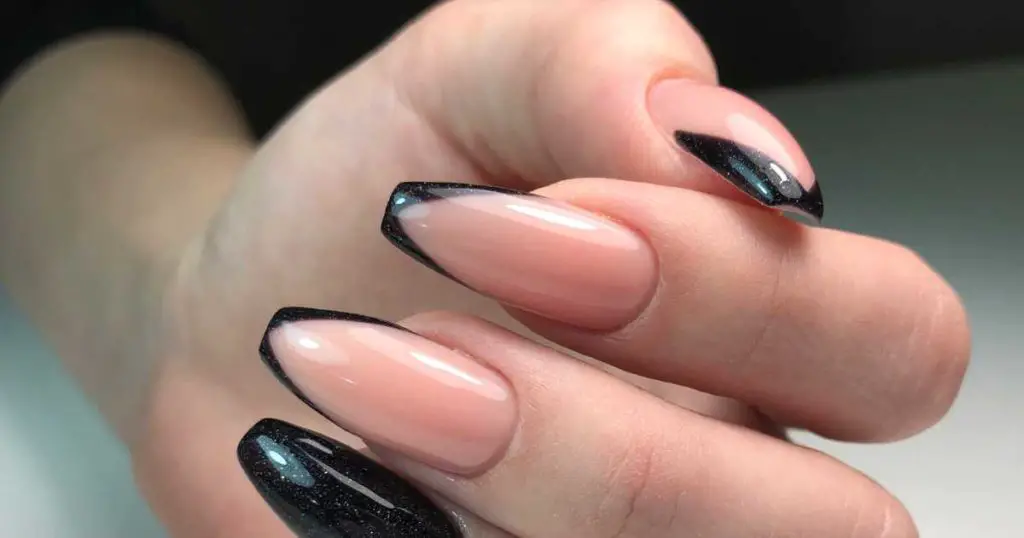 If you are searching for a nail design that takes traditional French manicures to a new level, this is the one for you. 
Instead of finishing the tips of your French manicures with white polish, use black or almost black polish. 
It still has that same chic look as a French tip nail, but it just looks slightly edgier. 
Style 8 – White Marble Nails 
Not only is white an excellent color for any nail design, but it also provides a classic look as it suits all skin tones. 
With its crisp hues, you will find that white polish makes even the most straightforward nail design look interesting. Plus, there are plenty of ways that you can incorporate into your designs. 
One way is to try out an effect that ends up with you having marble nails. This design allows you to use various other colors along with the white on your natural nails. This will then provide you with a more versatile design that will complement whatever clothes you are wearing. 
Of course, if you don't want to carry out this design on all your nails, just choose to apply the design to one accent nail. 
Style 9 – Go For Tiny Dots
These days, you don't need to go for the more complicated designs on natural nails if you don't want to. Plenty of simpler designs will still allow you to create something unique you will love wearing. 
With this design, you begin by applying a basic color base coat, say blue, red, or white, on your natural nails. Then over the basic coat, apply a few dots of bold contrasting color. For example, if you use a white or red base coat, then on top of this, you can apply some black dots; however, if you want to have a little more fun with this design, then why not apply dots that come in 2 or 3 different contrasting bold colors? 
Style 10 – Playful Diamond Nails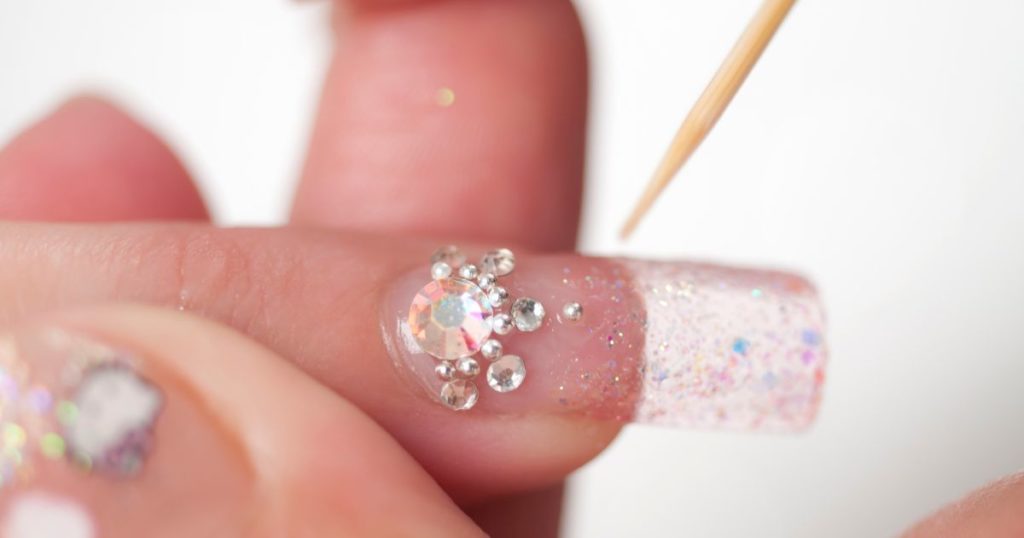 When it comes to nail designs, you can choose from simple or bold ones. The choice is really up to you about which of the many designs you choose to go with. 
With diamond nails, you are not only able to express who you are, but also have a bit of fun.
If you want to really create a statement then why not apply a few rhinestones to your nails? As well as helping to create a 3D effect, they also provide a bit of bling and sparkle to the look. 
The great thing about this design is it is one that people with long or short nails can enjoy. 
Style 11 – Daisy Nails 
Nail designs that include floral images in them are popular. The one that is proving the most popular of them all is the design that depicts daisies. 
This design is easy to create due to the simple shape of the flower. Since the base color for it is white, you can then spend more time on having a good manicure. 
Of course, you can use various base colors to highlight the daisy on the nail if you want. We think the best colors to use for the base are blues or bright yellows.
This is even a design that you can attempt for yourself at home if you want. 
Let's Wrap Things Up 
As you will soon discover there are plenty of amazing and wonderful nail designs to select from these days. The design you choose will depend on what kind of manicure you want to end up with. 
If you are someone who wants to show their fun side then consider designs for your nails that are quick or made up of blocks of color.
However, if you prefer to keep it simple, then choose a more classic design. A classic French manicure or painting your nails in nude colors will not only look chic but will add a touch of sophistication to any ensemble you wear. 
As you'll learn, there are plenty of different nail designs that will suit every nail shape and length. This means that finding a design that suits your personality probably won't prove to be all that difficult. 
Let us know what you think about our choices of what is the most popular nail design today.