This blog post is important to me as I recently had an incident with my acrylic nails which I will share the details for you to learn one or two things in order to prevent you from getting hurt by acrylic nails.
Acrylic Nails Hurt At Different Stages
While fixing them: Applying too much pressure and filing nails too much can cause pain, if you have naturally thin nails you might feel pain whilst fixing acrylic nails even if the nail technician is gentle, if you feel any type of pain whilst applying acrylic nails you can always tell your nail technician to be extra gentle.
Nail technicians push back cuticles for a seamless application of the acrylic nails, when the cuticle is pushed back it tends to hurt that is why it is advisable to apply cuticle oil before pushing it back and after fixing acrylic nails.
Also, the type of nail glue used can lead to pain whilst fixing your nails, if the nail glue is substandard or an expired nail glue is used you can be hurt in the process of fixing your acrylic nails, also if you have an allergic reaction to the type of nail glue used it can lead to discomfort and pain.
When they come off unexpectedly: Acrylicnails can hurt severely days after applying them especially when so much force is applied to a nail, for example hitting your acrylic nails on an object can hurt you.
The force from the contact of your nails on the object might lead to your acrylic nails coming off unexpectedly which can lead to different levels of injury depending on the amount of force applied.
Certain nail shapes like the pointy shape attract accidents, so it's better to avoid fixing pointy nails.
When taking them off: Some of you don't have the patience to sit down for about an hour soaking your nails in acetone till they come off as it takes about thirty minutes to remove the acrylics on one hand, you just try to take them off physically causing so much pain and also destroying your nail beds, even though using acetone softens the acrylic nails making them so much easier to remove.
For those of you that really don't have the patience to wait for acetone to do its job, I have some tricks on how you can remove your acrylic nails without hurting yourself they include:
Using toothpick with floss: when your acrylic nails have space and they are already giving way that is your cue to take them off. Grab your toothpick with floss, place the toothpick part between your real nails and acrylic nails and gently push it through your real nails and acrylic doing that lifts up your acrylic nails and loosens them up. Once they have been loosened, use the floss part; hold on to your nails with another finger then slide and keep pulling gently till your nails come off.
Debit cards or business cards: can't lay your hands on a toothpick with floss? You can use your debit card, credit card or a business card to lift up acrylic nails until they finally come off.
If you have long acrylic nails and you want to use any of the tricks stated above, make sure you cut the nails to a shorter length before proceeding.
How To Stop Acrylic Nails From Hurting After Removing Them
Clean your nails with warm water to prevent a likelihood of infection.
Soak your hands in cool water for 10 to 15 minutes to calm any discomfort.
Clean nails with acetone or any other alcoholic product.
Take pain killers to ease off pain.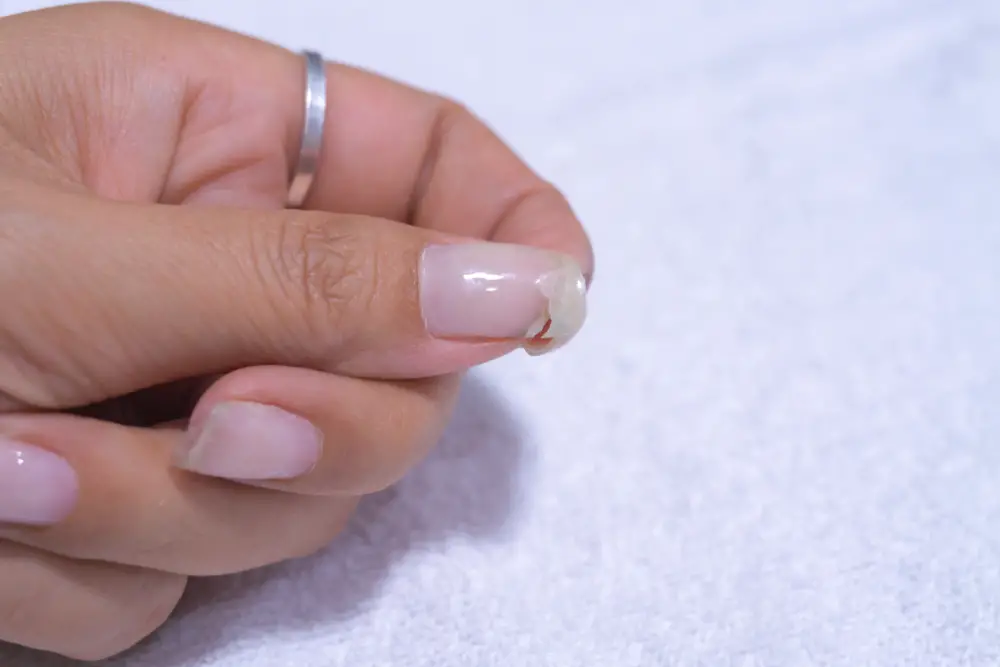 Refilling Old Nails
Remember earlier, I said I was going to share my personal experience with my acrylic nails, well now is the time.
So I refilled my acrylic nails after carrying it for six weeks (now I know I shouldn't have done that, refilling is okay only after 3-4 weeks), having my acrylic nails for that long made my nails weak.
An accident happened where someone sat on my hand and in the process of trying to remove my hand, my nail came off.
When I say my nail came off I mean the acrylic nail came off with my real nail, my pinky nail is currently nail less and I will have to wait about four to six months for them to grow.
That was my most hurtful experience with acrylic nails. In that case how could I have stopped acrylic nails from hurting me?
I could have removed the acrylic nails totally instead of refilling them.
So it is important to know when to remove your acrylic nails and when to refill.
How To Stop Acrylic Nails From Hurting Becomes Easy When You Follow These Steps
Nail technicians should only use a nail file and not a drill because anything electric has a tendency of leaving a dent on the nail bed.
Nail technicians should buff the acrylic nails well enough to make the acrylic nails thin because having thick acrylic nails can lead to bleeding due to the pressure of the acrylic nails.
Ensure when the nail technician is applying the nail glue, it doesn't touch your skin.
Always let your nail technicians know when you feel any type of pain or discomfort whilst they are fixing your nails.
Opt for shorter nails as they will hardly hurt you as longer nails attract accident and also taking them off is easier than taking off longer nails.
What To Do When Your Acrylic Nails Start Hurting
Take painkillers.
Soak your hands in cold water.
Apply nail treatment depending on the severity of the pain.
If the pain is persistent remove the acrylic nails.
Conclusion
After removing acrylic nails use nail strengthener if you want to take a break from filling your nails.
You can use dip powder on your nails after removing acrylics they are easier to remove or you could use gel polish as it helps to strengthen your nails.
Let me know what you learnt in the comment session.