In recent years, many different types of nail polishes have emerged. You can easily get confused about the difference between gel, semi-gel, soft gel, and shellac. When answering the question of how to remove shellac nail polish, let's first dive into what shellac actually is. 
What Is Shellac Nail Polish?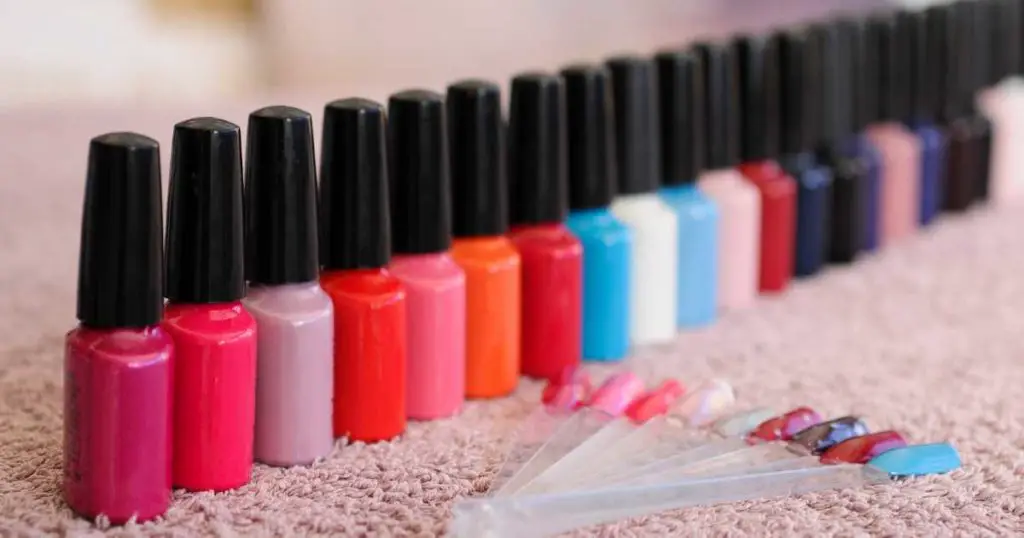 Shellac is a patented brand of gel polish, it is thin in consistency, it is cured in the lamp after every coat and it can be easily removed with nail polish remover based on acetone. and keep your natural nails healthy. 
The idea behind it is to mix traditional nail polish with gel nail polish. This combination makes shellac a great option for someone who wants something more longlisting than traditional polish, but also something that keeps nail plates healthy because nail buffers are not necessary. 
A Short History of Painting Nails
The art of painting nails can not be attributed to one culture, but started to emerge around the same time in different places. Some of the first cultures to use nail polish were ancient Egypt, India, China, and Babylon. 
Archeologists have found mummies in Egypt over 7000 years old with painted fingernails. In Egypt, lower classes wore pale colors, while individuals with high status used henna. Henna was also used by the Babylonian high society. One of the first instances of nail painting happened in China in 3000 BC. 
Nail paint was used by the Chinese royal family who painted their nails gold and silver to symbolize class as well. First nail polishes were based on henna, eggs, wax, or gelatin.
Modern Day Nail Polish
Modern-day nail polish, inspired by automobile paint, emerged in the 1920s and pushed down natural nail style. In the 1920s, Revlon made history by coming up with a range of polishes created with pigments, red most notably. 
After World War II, nail polish prices dropped and nail polish became available for all stylish ladies of that time. In the 1960s acrylic nail polishes became increasingly popular. Most recently, hybrid gel polishes became popular, one of them being Shellac nail polish.
How to Remove Shellac Nail Polish?
You don't have to go to a nail salon to remove your shellac. Even though your nail technician can do this for you, it can be easily done at home. Before getting into removing shellac, it is best to protect your cuticles and skin around your nails with Vaseline or nail oil. 
You can use both professional nail oil, but simple coconut oil from the kitchen cabinet will do the trick as well. Even though shellac removal doesn't damage your nail bed, chemicals in the polish remover can be harsh on the skin. Protecting the skin with an oily barrier will prevent dry hands after the removal.
Use Only a Shellac System 
As much as it can be tempting to mix and match different colors and brands, combining different types of polishes will affect how difficult or easy the removal will be. Combining more brands makes the polish harder to melt away and filing may be necessary. For this reason, the best way to go is to use the base coat, color, and top coat from the shellac system.
Apply Thin Coats
One of the most common mistakes when applying shellac is applying thick layers. This not only makes the manicure look messy but it is also difficult to remove. The remover needs to penetrate through all the layers, so the thicker the coats the more difficult it is for the nail polish to dissolve. 
The base coat, color, and top coat must be applied in thin layers. It is usual for the first layer of color to be somewhat transparent, however, don't make it thicker. Cure it in the lamp and do another thin layer. The thinner the coats, the better!
Getting the Proper Remover
The best remover for shellac is the remover called Offly fast which is created by the same brand as the shellac itself. It is a mixture of acetone and oils. Even though pure acetone will dissolve shellac, this is a better option as it's made specifically for shellac and is moisturizing as well. 
If you do decide to go with pure acetone, know that it will cause short-term dryness and whitening of the nail and skin around it. When you use acetone for nails, always make sure it is cosmetic grade!
Saturate the Pads
Don't be shy when using the remover, cotton balls need to be well-saturated with the liquid. Users can use round cotton pads cut in 4. The pad doesn't have to be big, but it has to be big enough to cover the entire surface of the nail. You can use any acetone nail polish remover. Non-acetone nail polish remover will not work. 
Wrap the Foil Tightly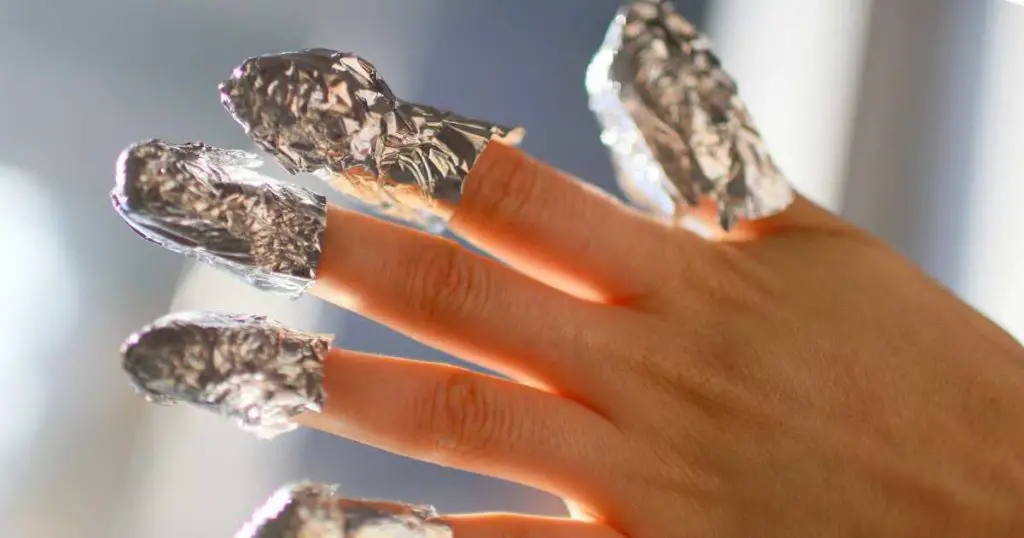 The cotton and pad method is the recommended method by the shellac manufacturer. It consists of saturating the cotton pad with a remover, pressing the cotton pad against the nail, and then tightly wrapping it with aluminum foil. 
You have to wrap the foil tightly, otherwise, the remover will quickly evaporate and you will be left with polish untacked. For this part, you can use regular kitchen foil cut in squares. The size of the foil square should be big enough to go around the finger at least twice. 
If you want to avoid the fuss of cutting the pads and the foil you can buy a pre-made set with pads glued on aluminum foil strips.
Remove Polish From One Hand at a Time
If you are removing shellac polish on your own, it is best to do it one hand at a time. Removing polish from two hands at the same time can get complicated and cotton pads can start to fall off. If your pad does fall off, just saturate it with the remover once again and wrap it back.
Heating Pads
Microwavable heating pads or electrical heating pads work great when you want to speed up the process. The heat should be comfortable, not hot! The warm pad is just enough. Heating pads can be particularly helpful in wintertime when the air and the hands are cold.
Wait for a While
The time you need to wait for the shellac to dissolve depends on the number of coats and the type of top coat. Each top coat has a specific time, ranging from 10-15 minutes. You can find this time on the box of the top coat. 
Don't remove foils prematurely to check on the polish since the remover can evaporate! When the soak-off time is up, remove the foil from one nail at a time. When you remove polish from one nail, proceed to the next one. 
You can use a nail file to shape the nail after you have removed the polish and use a cuticle pusher or manicure stick to keep the cuticles neat. Try to avoid coarse nail files for shaping.  That's it!
Conclusion
The art of painting nails is as old as some of the most ancient cultures. Painting nails is a fun and relaxing experience up until we need to remove the polish. The removal of gel-based polishes can be somewhat tricky. 
However, the answer to how to remove shellac nail polish is quite simple. Prepare everything you need from cuticle oil, remover, cotton pads, foils, and heating pads. Follow these simple instructions and watch your favorite nail polish soaks off and disappear, leaving your nails healthy and strong so you can enjoy your shellac manicures.