Looking for a quick and easy way to keep your natural nails in good condition? Perhaps it is your dream to have immaculate nails, but you don't want to spend a fortune on buying all the tools that you see your local nail technician using to perform a manicure or pedicure. 
You may be surprised to learn you likely already own the items that will allow you to do a natural manicure at home without all the typical equipment.

In this article, we look at how to do a manicure at home without tools, even when you have damaged nails. They will save you time and money as you won't need to visit a nail salon! Who doesn't love that?
How to Do a Manicure At Home Without Tools – 6 Steps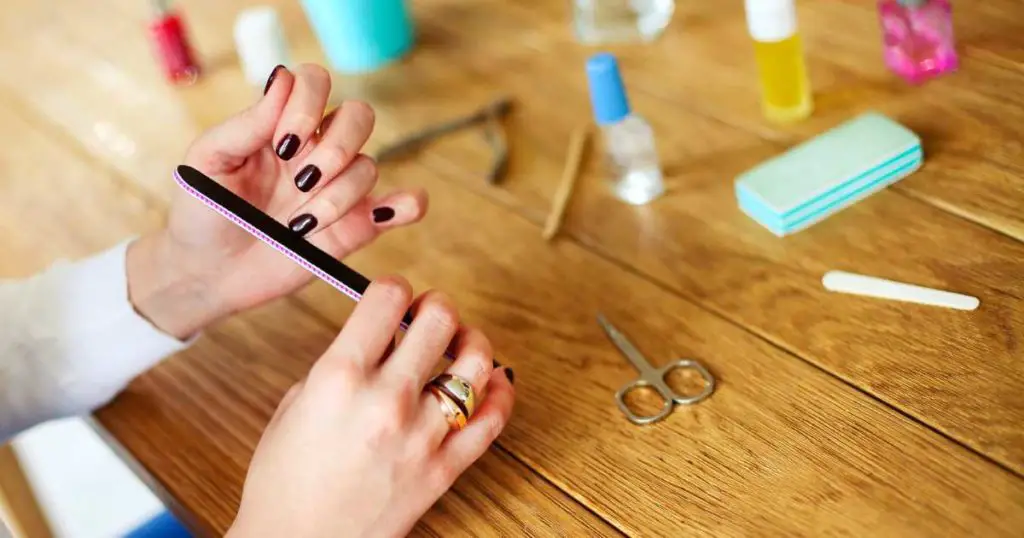 Step 1 – Cleanse 
Take a small bowl and fill it with warm water. Add some body wash or shampoo along with some sea salt. Once you have all the ingredients, swirl the water around so that bubbles then form. 
Next, add a slice of lemon and place your hands into the bowl. Leave them to soak in the soapy water for five minutes. Then take your hands out and dry them. 
Step 2 – Removal Of Cuticles 
Apply hair conditioner rather than cuticle oil to the cuticles of your natural nails and leave it on them for 2 to 3 minutes.
This will help to soften the cuticles, and you will find that they are much easier to push back using gentle movements.
If you need to while pushing the nail beds back, you can apply a little more conditioner if necessary to help improve nail growth. 
Step 3 – Removal Of Dead Skin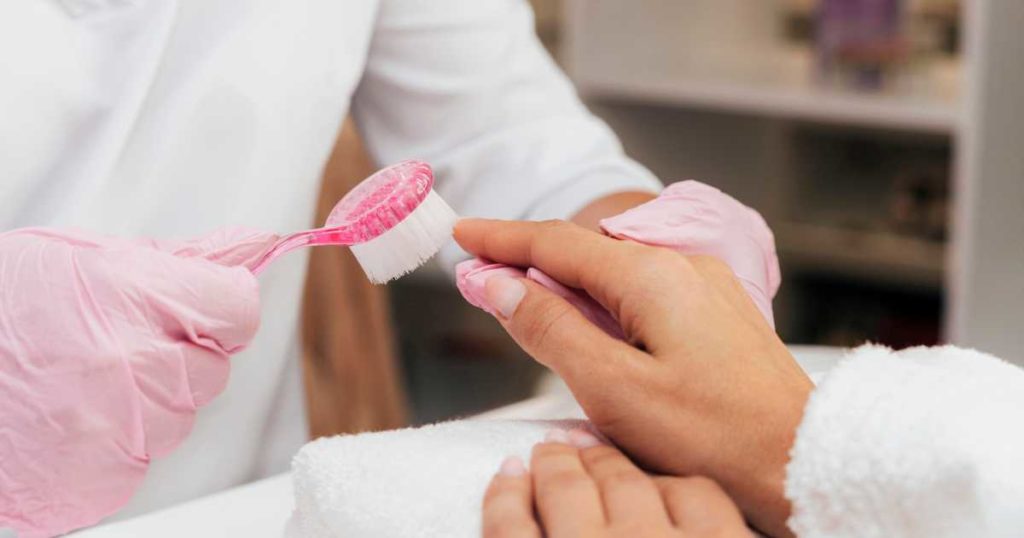 To get rid of dead skin on your hands as part of a natural manicure, you need to give them a good scrub. 
You make up your scrub if you don't have a scrub stone. One of the most simple yet effective scrubs you can use for the removal process to get rid of dead skin cells consists only of honey and sugar. 
Simply combine sugar and honey, then apply it gently to the skin using light circular motions. Keep rubbing the scrub as part of the removal process gently onto the skin for around five minutes, ensuring that you don't apply too much pressure as you apply the mixture onto your skin.
Wipe any particles remaining on the skin off using tissue paper or cotton swabs. 
Instead of using honey and sugar, you can make up a scrub from olive oil, lemon juice, and sugar. This is effective at helping to remove any discoloration from your skin as well as even out its tone. 
Apply this natural manicure mixture in the same way as you would when using sugar and honey. 
Step 4 – Nourishing the Skin 
This is the stage where you will take further care of the cuticles using a cuticle care cream. Instead of buying a ready-made cream, you can make your own.
All you need to make this cream is aloe vera and organic coconut cream. 
Simply mix equal amounts of the cream and aloe vera. Then apply it to your skin. 
Not only does the coconut oil help to moisturize the skin on your hands, but you will find it also helps to heal any injuries. As for aloe vera, this is very good for helping moisturize the skin on your hands and the cuticles. 
You should massage this mixture well into the skin around the nails and on them for around 2 to 3 seconds on each finger. Doing this will help ensure that the oil can penetrate further into the skin. It also proves effective at helping with treating brittle nails.
You can also use a mixture of tomato, lemon, and potato juice to help nourish your hands. If you use this mixture, you will need to massage it into the skin for between 5 and 7 minutes and then leave it in place for a further 3 minutes. 
Step 5 – Apply a Mask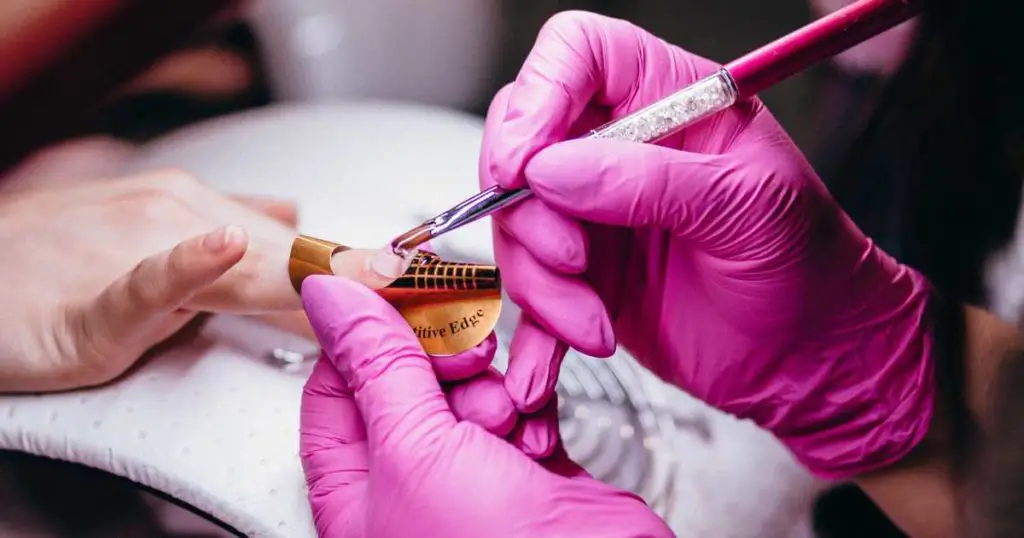 To keep your hands and nails in good condition, you need to apply a mask after carrying out the previous steps. 
You can, of course, use a ready-made mask, but you can also make your own. All you need to make a mask to apply to your hands is castor oil, turmeric powder, and coffee powder. 
Combine all these together and then apply the mixture liberally over your hands. Leave it on there for about 10 minutes. 
Over this time the mixture will dry out and you simply wash it off using some warm water. 
The castor oil will help to nourish your skin more as well as hydrate it, and the coffee and turmeric will serve to make your hands shine. 
Step 6 – Soak and Relax
Just like Cleopatra, you will find that using milk will help to nourish and soften the skin on your hands. 
All you need to do is place some warm water into a bowl that is big enough that you can immerse your hands fully into it. To the water add about 3 tablespoons of milk. 
Once you've added the milk, immerse your hands in the water and leave them to soak in it for 7 to 10 minutes. 
The longer you leave your hands in, the more of the water and milk will be able to nourish the skin on your hands. 
After removing your hands from the milk and water, wipe them dry using a soft towel. 
Let's Wrap Things Up
If you follow these simple steps we've discussed above, you will find that you can get beautiful-looking hands for any special occasion in a very short space of time. 
You do need patience when carrying out each step of this beautiful manicure to ensure the right results are achieved. On average, except for the whole process of carrying out a manicure on each hand using this method takes around 45 minutes in total. We are sure you will be delighted with the results you get. 
Hopefully, you now know how to do a manicure at home without tools!