There has been a lot of confusion around acrylic powder and dip powder so we are going to clear that up in a bit. You might not be shocked by the answer but before we get right in, it is important to break it down.
Acrylic Powder VS Dip Powder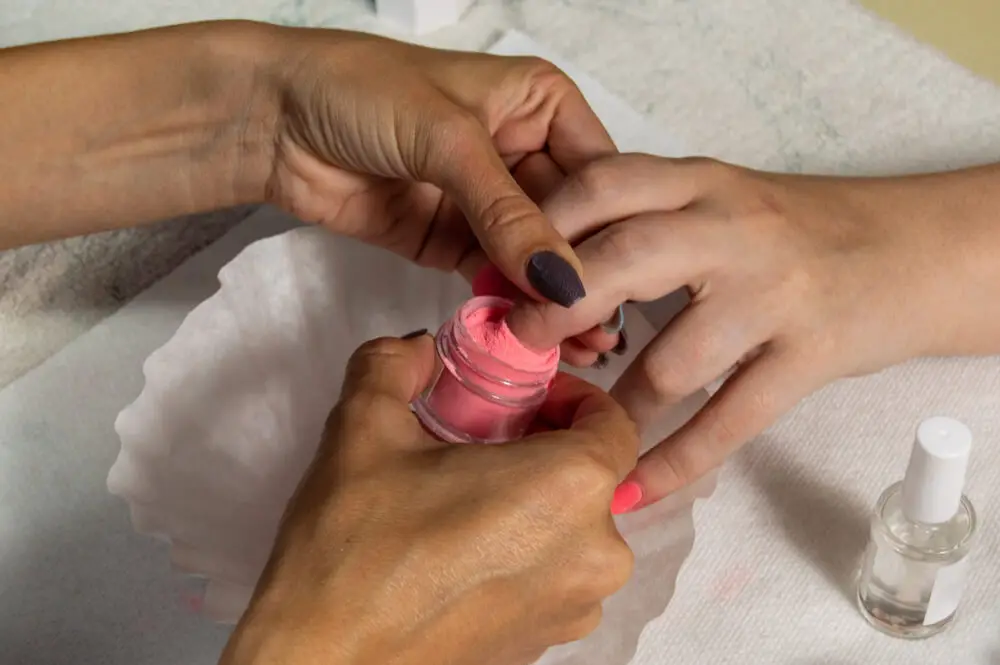 Acrylic and dip powder are both acrylic powders, the difference is in the composition, dip powder has been grounded into a finer powder. Dip powder contains resin which is absent in acrylic powder.
Acrylic powder is mostly used for the body of the nail and are used for longer nails while dip powder is mostly used for the decorative part of the nails and are preferable for shorter nails.
Dipping nails are beginner friendly whilst acrylic nails require a level of experience.
Acrylics powder can last up to two months if properly taking care of while dip powder can last one-month maximum with proper care.
Dip powder is one of the latest trend/new-in in the nail industry and it is gaining popularity day by day.
People are drawn to dip powder because it has made doing nails easier and faster. 
With dip powder you don't have to go to the nail salon to get your nails looking cute, it can be a DIY project done in the comfort of your home and it is also a cheaper alternative.
Step By Step Guide On How To Use Dip Powder
Dip powder can be used to achieve a cute look in the following steps:
Prep your nails: You should clean your nails with a nail remover to remove any dirt and excess oil, file them mildly to your preferred nail shape as they will still be filed at the end of the process.
Apply a thin base coat: This is to leave a gap between the dip powder and the nail bed in order to protect the nail bed. Be sure to apply the base coat evenly around the nails.
Dip your nails at an angle: For an excellent result dip your nails at 45 degrees, ensure you deep your entire nail for a perfect coverage, shake to remove excess and then let it dry, after it has dried use a clean loose brush to sweep off any remaining excess.
Apply a generous top coat: Apply 1-2 coats of top coat to lock in the dip powder for maximum durability.
File nails: To keep a uniform length and to achieve preferred shape.
Apply finish gel: Apply gel polish evenly in thin layers to give you a perfect finish look. You can also apply cuticle oil to moisturize your nails.
Repeat all six steps of this process on each nails and continue the process on both hands.
It is unsanitary for you to use dip powder in a salon as different customers would have dipped their nails in it possibly transferring nail infection from one customer to another but it is safer if you do it on your own as you are the only one dipping your nails in the powder container.
Can I use acrylic powder as dip powder? Yes, you can actually do the dipping method with the acrylic powder because they are the same thing just that dip powder has been grounded into a finer powder.
Using an acrylic powder as a dip powder requires more product and more application than using an actual dip powder.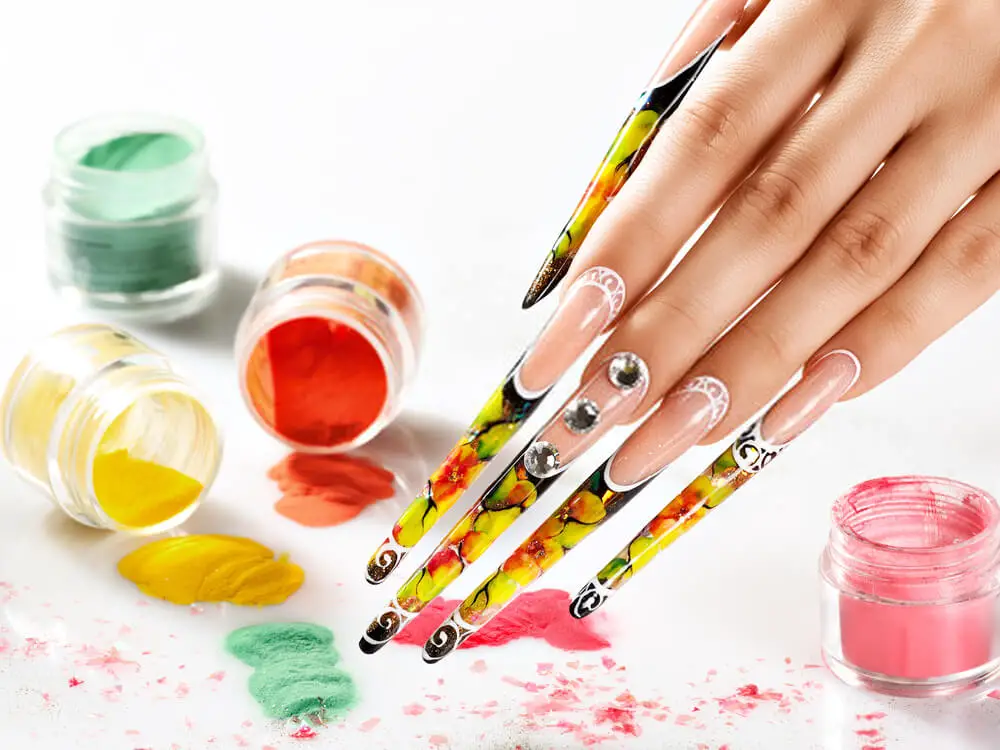 Step By Step Guide On How To Use Acrylic Powder As Dip Powder
Acrylic powder can be used as dip powder in the following steps:
Prep your nails:  You should cut each nails, clean them and then file them mildly and gently to create a smooth surface.
Dehydrate your nails with acetone: Apply a coat of acetone on each nails and allow them to dry before applying any other product, this step is very important.
Use a nail glue as the base coat: This is done to protect nail bed, be sure to apply a thin coat evenly for a smooth powder application. Immediately the nail glue has been applied, dip nails into acrylic powder.
Dip your nails at an angle: Once nails have been dipped into acrylic powder shake off excess powder and then let it dry, brush off any other excess once dried.
Apply activator: This is a very important step as the activator solidifies the glue with the acrylic powder, making it stronger and durable.
Buff and file nails: to achieve preferred length and shape, adding definition to the nails.
Apply gel polish: This provides an extra layer of strength to the nails, preventing the nails from chipping.
Apply top coat: Apply a generous amount of top coat to give your nails a beautiful finish don't forget to apply oil around nails to moisturize them.
Repeat all eight steps of this process on each nails and continue the process on both hands.
Conclusion
It is worthy to note that dip powder could also be used as an acrylic powder but it is not recommended as dip powder is not as durable as an acrylic powder so when filling is done with dip powder it is prone to chip also dip powder will require layers of top coat to make it somewhat durable making the nails thicker and not flattering to the eyes.
Feel free to drop a comment if you have questions.