Most girls start their makeup and beauty journey with nail polish. It's one of the first things girls get when they start to play with hair and makeup and an one of the easiest ways to add style and accent to any look. 
In the 90's and early 2000's, there were typically just one or two shades of white nail polish available in beauty stores if you were lucky. Now, we have amazing shade options from single brands alone (how far we've come)! For instance, from OPI we have our work cut out for us to just to select the best OPI white nail polish considering the wide selection of white shades available depending on skin tone, opacity, shine and more. OPI is one of the biggest names in the nail polish industry. Keep reading for our favs.
Short History
In search of the best OPI white nail polish, let's first take a look at the OPI products, also known as simply OPI, an American nail polish brand based in California. OPI started as a small dental supply company. 
One of the most used dental supplies is acrylic. Acrylic is a polymer known for its transparency and fast drying. That quality made it perfect for dental fillings. This is the reason the history of acrylic nails started in a dental office. 
In the 1950s, a dentist named Frederick Slack experimented with dental acrylics and other materials to try to create artificial nails in place of his broken nail plate. That is how nail acrylic was created. Acrylic polish today is a pigment suspension in acrylic polymer emulsion that is cured in the nail lamp.
OPI Products
OPI started off when a small dental supply company owner named George Schaeffer joined forces with his sister-in-law Suzie Weiss Fischmann and Eric Montgomery, a biochemist. The 3 of them created an acrylic system which they sold door to door to the local beauty salons in the 80s. 
By the end of the decade, OPI had launched nail lacquers and other products. In 2003 they made history with the Legally Blonde 2 collection which was featured in the film. One of the most iconic white shades will remain Elle's Pearls by OPI named after the famous legal coquette Elle Woods. Below are some of the best OPI white polishes today.
White Infinite Shine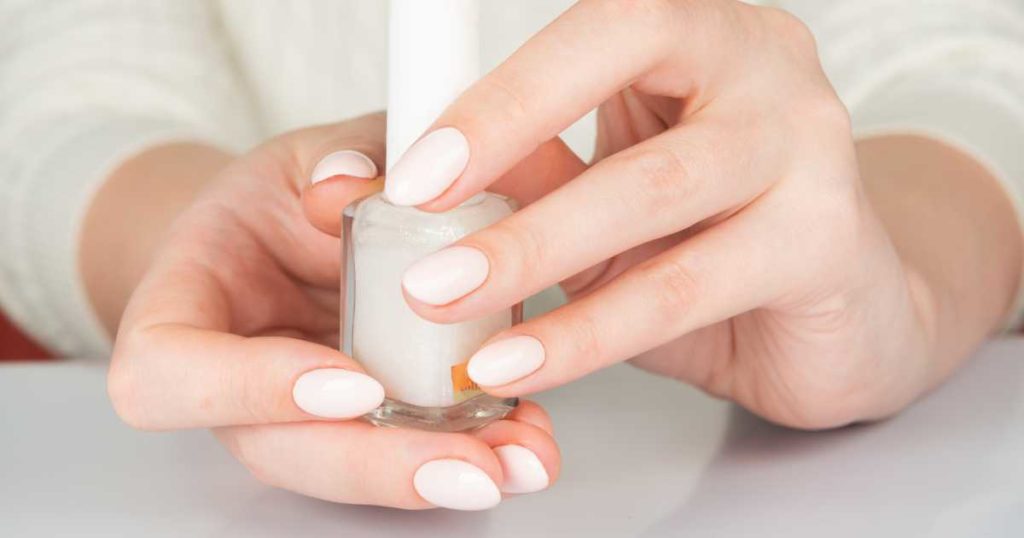 When searching for the best OPI white nail polish you should take a look at the white infinite shine, a line of traditional nail polishes that comes in 8 different shades of white:
More on Shades
All the shades above are absolutely mesmerizing. Snow Holding Back is a sheer white polish with a shimmer that gives off 90s vibes.
The second one is a classic off-white shade nail polish with an opaque finish that is very popular in the summer months. It should be noted that a single coat might not give you full coverage. 
Alpine Snow is fresh and crisp, the true white used for nail art and French tips.
The fourth shade is light and neutral, pale lavender white, also known as salt white, which gives a beautiful smooth finish.
Funny Bunny is an OPIs cult classic. Funny Bunny could be used as a base coat for the French manicure as well. Funny Bunny is how you would imagine a perfect nail polish for a wedding day – soft, gentle, somewhat transparent, and sweet.
Snow Day in LA is a pear-white nail polish with glitter that looks like frosted ice, hence the name. It has a beautiful glossy finish. 
Kyoto Pear is a shimmery white satin nail polish made popular by the glazed donut nail trend started by Hayley Bieber. If you want that glazed donut trendy look, this is the perfect shade.
Lastly, Pear of Wisdom is a sparkly white nail polish with a glossy finish that looks just magical.
Even though all these shades are worth having and have a beautifully smooth application, the best OPI white shade all around is their best seller and a classic Funny Bunny. Even though all these shades are gorgeous, Funny Bunny is the most versatile. 
It also gives minimal streaking. It can be worn every day, from the office to a night out. It's a beautiful shade that should be every girl's staple. It is also a color that can be worn by both teens and mature ladies, those who follow trends, and those who stick to classics. 
The second best option would be Alpine Snow, a famous OPI all-time favorite. Alpine Snow is a must-have for French tip lovers.
Other Options from OPI
If you are looking for a less traditional white manicure, OPI has a range of press-on white nails that are worth mentioning. Pressing on nails is a great option for someone who is in a hurry or someone who wants to jazz up a look just for a special occasion. 
OPI has 4 different shades of press-on nails, named according to the nail polish name they resemble, for example, Funny Bunny and Alpine Snow. Since press-on nails are used for special occasions, our top pick would be something more eccentric and eye-catching like Charging My Crystals, a mesmerizing set of silver iridescent flake press-on nails.
White gel polishes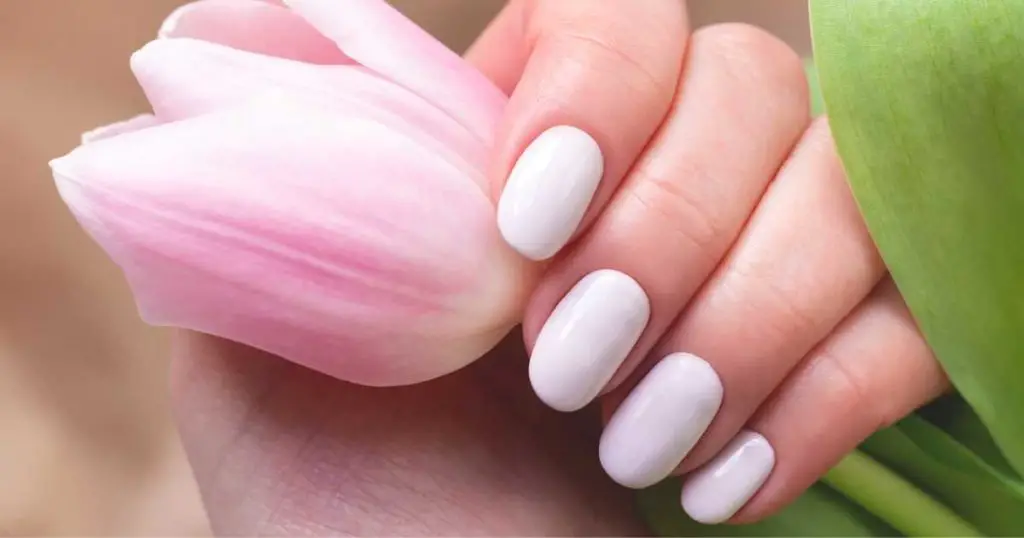 Other options from OPI are gel polishes. Gel polishes are more long-lasting but require a LED lamp for curing. OPI gel polishes are available to professional nail technicians only. 
Another option for nail technicians or in-salon appointments is a Powder Perfection Line, an eco-friendly acrylic alternative that offers a shiny, gel-like finish. Powder Perfection also comes in the colors Funny Bunny and Alpine Snow, among others, which is great for someone who likes to combine acrylics for manicures and traditional nail polish for pedicures. 
In this way, you can have the same color finger and toenails.
Conclusion
OPI has a long history of delivering beautiful shades to customers. OPI has come up with some of the nail polish classics, like the Funny Bunny. When searching for the best white OPI nail polish, look no further. 
This beautiful shade will remain classic for its versatility and beauty. It is an all-year-round color, perfect for all different kinds of occasions, one color that every woman should have. It can be used as a base coat for the French manicure or worn alone. If we had to choose one nail polish to use forever, that would be Funny Bunny. 
If you are looking for something less traditional, or if you like to combine different types of polish for manicures and pedicures, Funny Bunny also comes in a form of press-on nails and gel.